Under HENN's design direction, Merck Innovation Center in Darmstadt has undergone a gradual transformation from industrial works to contemporary technology campus, keeping pace with the global shift from a manufacturing to a knowledge-based economy.
This project is part of LE3DERS exhibition at Valcucine | Milano Brera showroom during Milan Design Week 2022 6-12 June 2022.
The Merck Innovation Center, completed in 2018, is the heart of this newly modernized campus, and represents a new kind of office space—a flexible work space for a mix of dedicated employees and temporary teams engaged in interdisciplinary collaboration. It is certified with the LEED platinum standard.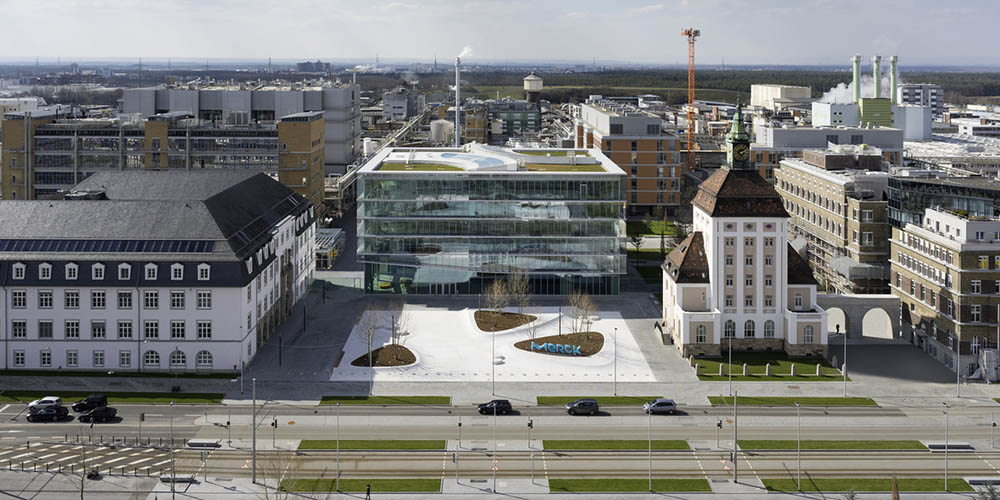 Set back from Frankfurter Strasse, the Innovation Center creates a generous new public space, the Emanuel Merck Platz. Clad in louvred glass, the restrained orthogonal exterior of the IC hints at, but never fully reveals, its dynamic interior landscape.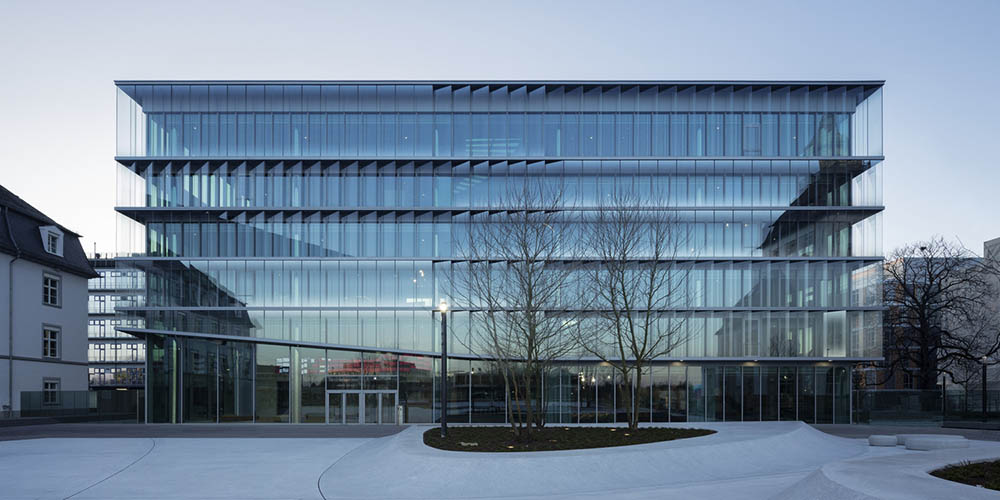 Inside, the Center is expressive and formally exuberant: interwoven concrete slabs supported by only four interior chrome-plated columns arch across the space; steps and ramps spiral upwards; and floors delaminate to create a continuous spatial experience.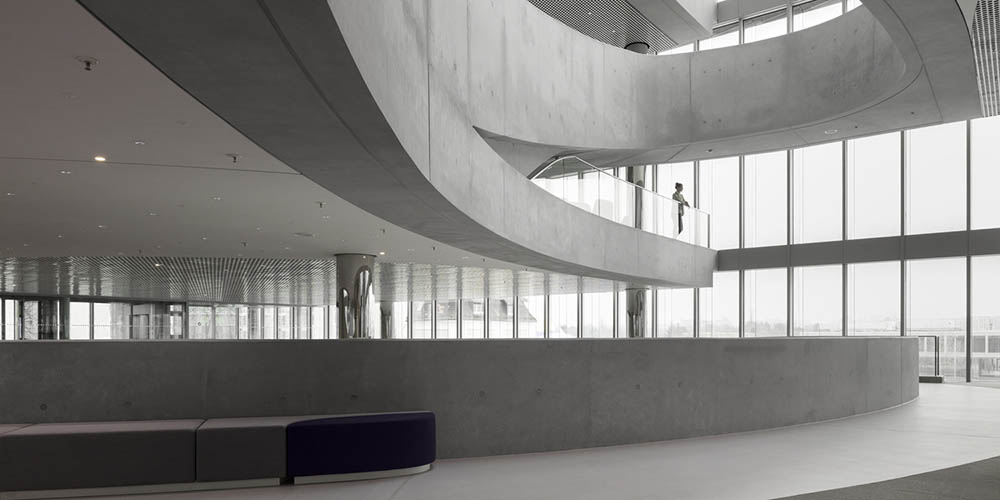 Floors slope gently upwards alternating moments of compression and expansiveness to create a gradually inclined floor scape of easily traversable, column-free workspaces.
A nod to HENN's own architectural lineage, the Innovation Center is a three-dimensional, almost literal, Bürolandschaft or office landscape an office topography.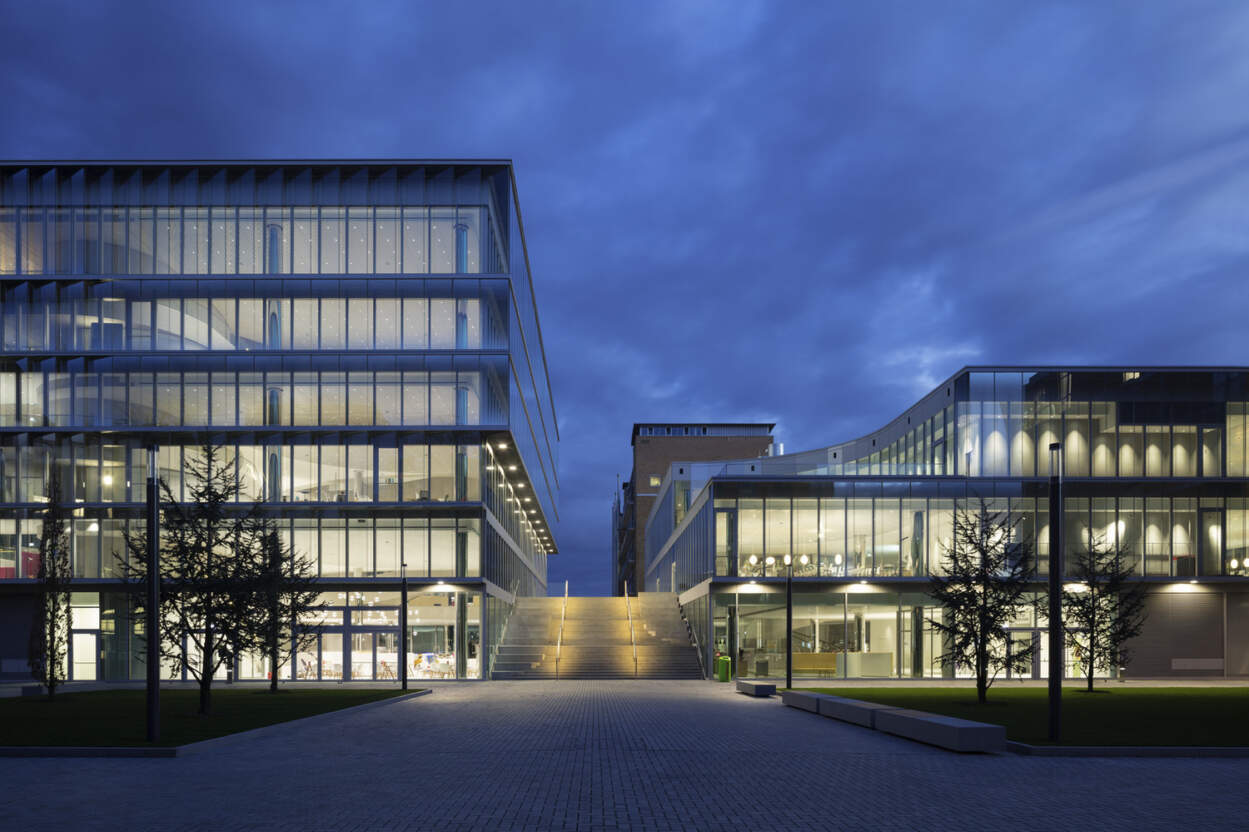 Organized along a diagonal axis, every level of the Merck Innovation Center has two work areas—a mix of quiet and collaborative functions—including a library and co-creation space on the first floor and a workshop space on the top level.
Punctuated by four atria, the interior is highly porous: the paths between work areas are traversed effortlessly and the move from one level to the next is seamless, almost imperceptible.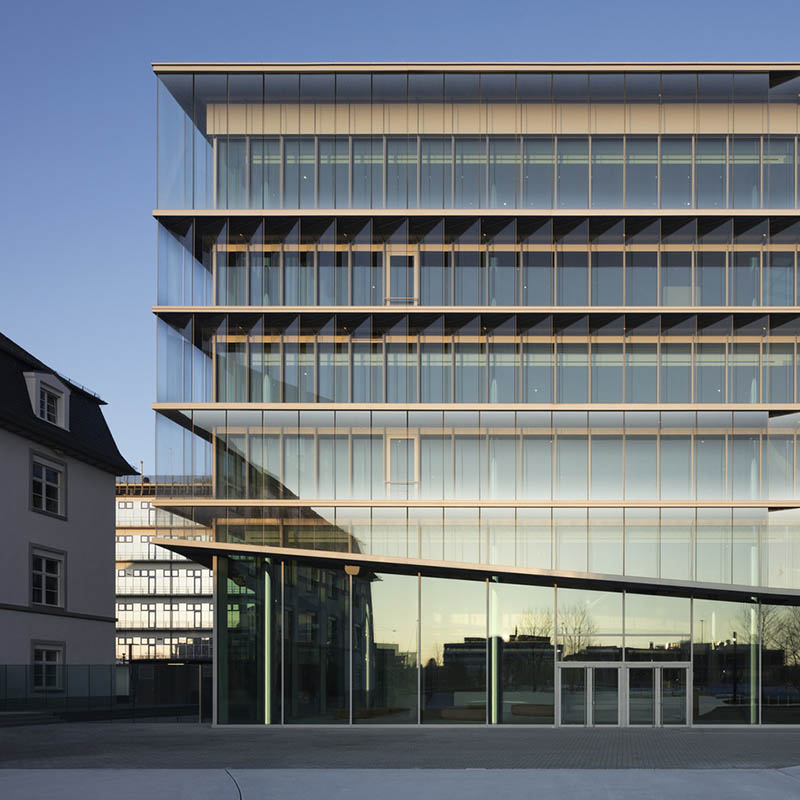 The fully glazed façades and sound-absorbing ceilings ensure a brightly lit, quiet workspace.
Merck products and technologies are seamlessly integrated into the interior: lighting; finishings; skylights; and OLED technology used in the Light Cloud art installation and Media Wall monitor installation.
About HENN
HENN is an interdisciplinary team of architects, engineers and thinkers, with unique technical expertise developed over decades of experience in the fields of workplace design, education, science and research, health, automotive and culture.
HENN is a third-generation architecture studio with over 70 years of experience, with offices in Berlin, Munich and Beijing. The German architecture firm has completed more than 150 projects and counts 350 team members from more than 40 nations. As a general planner, HENN works on projects involving architecture, urbanism and master planning across all project stages.
"Architecture is an active participant in the formation of knowledge and ideas with the power to connect people and inspire innovative solutions. HENN's progressive approach is informed by in-depth research into the program, function and performance of spaces. Driven by curiosity and committed to a sustainable future, HENN applies this knowledge across different scales and domains to design spaces for people shaping the future."
Photography: HG Esch