Masquespacio presents the new creative co-working Cabinette in Valencia specialized in creative and artistic disciplines and located in a delicious 60's vibes' environment to create, to work and to build ideas.
Masquespacio is an award-winning creative consultancy created in 2010 by Ana Milena Hernández Palacios and Christophe Penasse and selected amongst our list of best interior design practices in Spain, 
This project is creative capsule designed by Masquespacio and inspired by the "sexy, lux and fun"  concept that offers three meeting rooms, terrace, kitchen, phone-booths … a stimulating space to create new experiences.
Cabinette is coworking with a clear philosophy: stereotypes and cliches are not allowed. A place for those who run away from conventional spaces, for those who want to surround themselves with charisma and good and bright vibes, for those who seek to build ideas, for design lovers.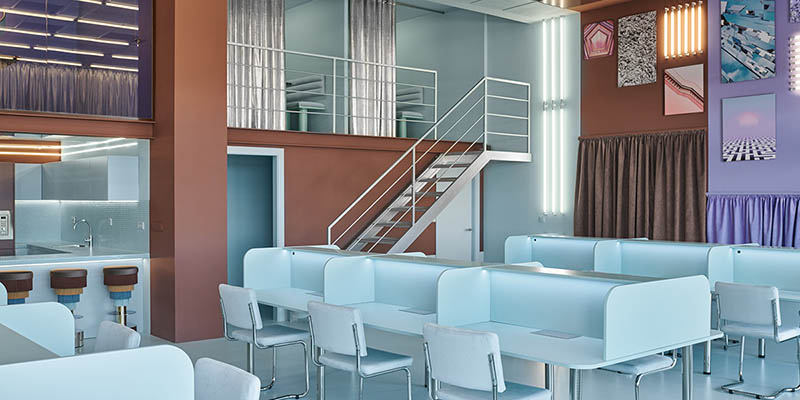 The inspiration comes from the Jacques Tati's movie Playtime from the 60/70s shot in Paris, in which the main character at one point of the movie has a meeting in a modern office building full of 'Cabinettes' in a world of plate glass and steel, endless corridors, elevators and escaltors, a real labyrinth in which he gets lost.
The design starts with the aim to create an environment that inspires persons that want to break with regular ideas and traditional life.
Thus, we can see in the main room how the picture frames and curtains are inverted to question the conventional and make the co-workers reflect about how we see 'normal' in our lives.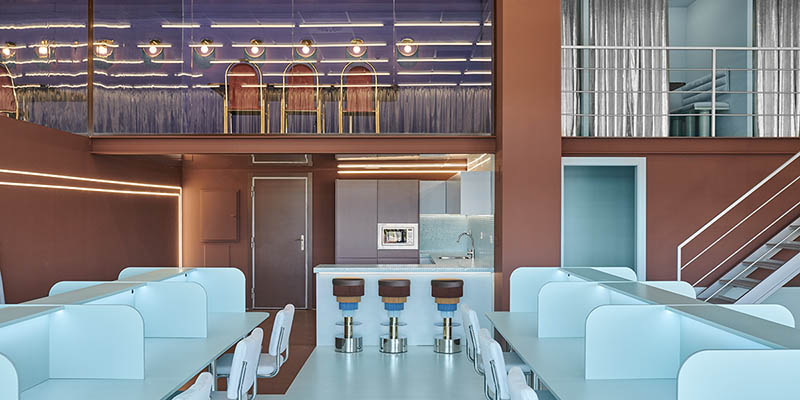 On the other hand you can recognize in the Creative Co-Working Cabinette a clear wink to the past with an interior that brings the 70's with a retrofuturistic look to the present like if the visitor would enter a time machine to be transported to the future in a space that seeks to transmit a vibrant, joyful and unconventional energy.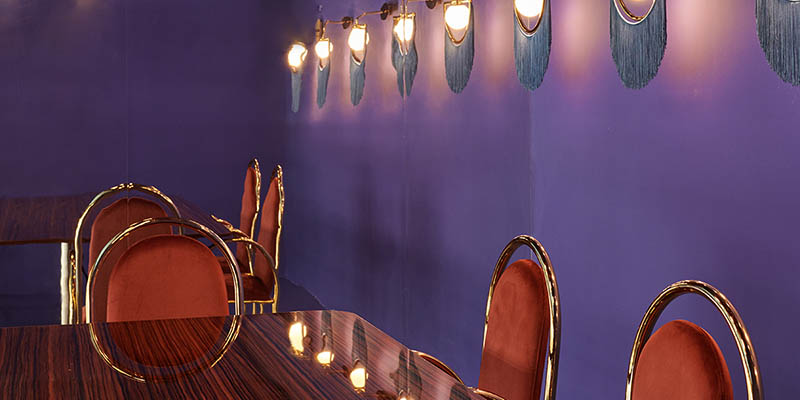 You can at the same time feel a touch of irony in the space that connects perfectly with the different furniture and lighting items from Houtique with the Wink lamps, Arco chairs and Déjà-Vu stool.
Suppliers & Materials:
Lamps: Houtique
Custom-made furniture: Design Masquespacio, Production Houtique
Chairs & Stools: Houtique
Chairs Co-Working: Really Nice Things
Image Courtesy: Masquespacio
Photography: Luis Beltran