The 2021 London Festival of Architecture theme will be 'care', with the call for entries also now open for the festival taking place from 1-30 June 2021.
Every year London Festival of Architecture takes a different theme to inspire its programme of events that brings a vast public audience together with architects, artists and many others to celebrate architecture in London, and to discover how architecture can be a positive force for change in the world's greatest city.
For 2021, the organisation is encouraging the network of event organisers, supporters and followers to examine how we can better care for ourselves, our cities and the environment. Anyone with an interest in the built environment is encouraged to submit proposals for physical and digital events at www.londonfestivalofarchitecture.org.
The deadline for London Festival of Architecture 2021 event proposals is 7 March 2021.
Year on year, the London Festival of Architecture curates a vibrant and diverse programme of public events – from activities aimed squarely at children and families to lectures and debates to enlighten and engage professional and intellectual audiences, with a rich mix of installations, exhibitions, tours, talks, screenings and performances in between.
In 2020, the LFA organised its first ever and highly successful digital programme in response to the Covid-19 pandemic. ARCHIVIBE attended organising the contest "The Power of architecture to impact my life" with the participation of many renowned architecture firms such as Foster + Partners, Renzo Piano Building Workshop, SOM, WilkinsonEyre, Grimshaw, Jestico + Whiles, Conran and Partners and Bradley Mallalieu.
2021 London Festival of Architecture organisers are looking to curate a lively mixture of physical and digital activities.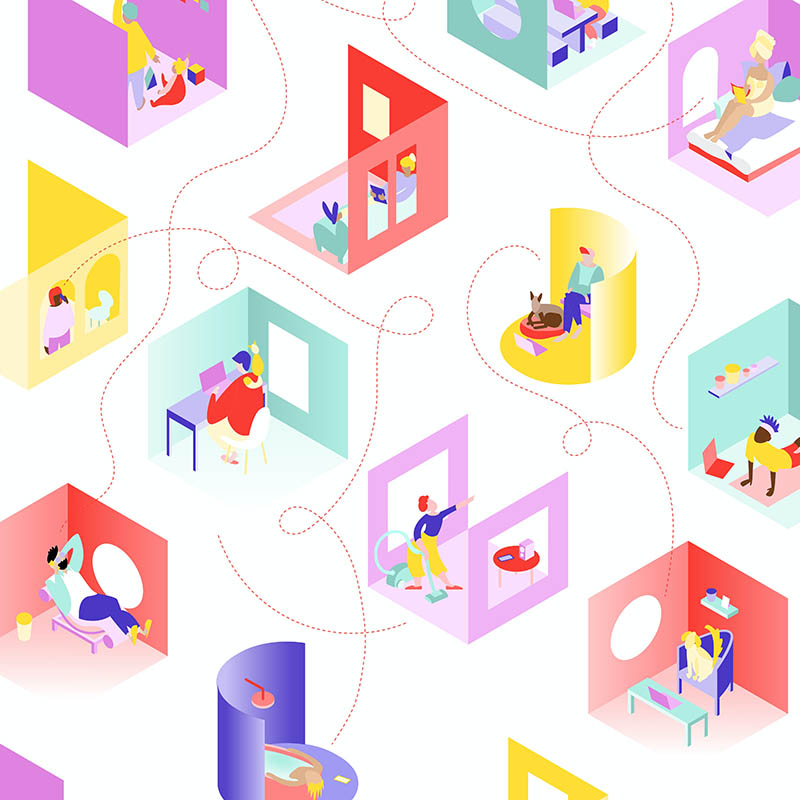 Let the distance be physical. Image created by Cristina Estanislao. Submitted for United Nations Global Call Out To Creatives – help stop the spread of COVID-19.
How has it taken a global pandemic to help us take stock of what we care most about? A lesson from the pandemic is that we need to find ways to use architecture and technology to reconnect with each other, to build care and empathy.
For architects, 'care' means many things. At a basic level, architects design care buildings from hospitals to hospices, and the profession's swift response to Covid-19 was inspirational as architects fabricated face shields and portable intensive care units, and adapted existing facilities into critical care settings.
But what does 'care' mean for architects, civic leaders and the public? From inaccessible playgrounds to sometimes outright hostile design, it sometimes seems there's a distinct lack of care in our built environment. Grenfell shames us as a systematic lack of care and accountability is exposed, while the killing of George Floyd and the subsequent BLM protests highlighted inequalities that are too often built into our cities and surroundings.

Stay Home Safe for World. Illustration of a person, socially distant for wellbeing for human kind.Image created by Dzana Serdarevic. Submitted for United Nations Global Call Out To Creatives – help stop the spread of COVID-19.
We can do better, and this year's COP 26 Summit will be an opportunity for our industry to take responsibility and demonstrate its care for future generations through responsible design and environmental leadership.
As we look towards a post-Covid world, architects need to help people create a safer and more inclusive built environment, and homes and workplaces that care for people's work-life balances, and their physical and mental well-being. Regrettably, the profession still has further to travel to care for its own people, by addressing persistent inequalities and exploitation.
It is time, as Cedric Price once said, that 'like medicine, architecture and most move from the curative to the preventative'.
2021 London Festival of Architecture is a chance to examine 'care' in all its forms, and perhaps an exhortation for us all to care more.
Illustrations: Unsplash unitednations.talenthouse.com
Cover: The kind neighbour. Image created by Fernando Cobelo. The illustration depicts how kindness between neighbours has gotten stronger now we're facing the Covid-19 confinement. Submitted for United Nations Global Call Out To Creatives – help stop the spread of COVID-19.