Mission accomplished! Our first Design Fairs and Architecture Offices Tour in London finally took place!
Can't we start talking about weather? A typical English weather welcomed us on Sunday morning: it was raining cats and dogs…
The meeting point was in a pastry shop in Spitalfield, not too far from the first location that we would then visit in East London. The group of subscribers increased gradually and surprisingly, in the end, was made up of women only: architecture students and young architects.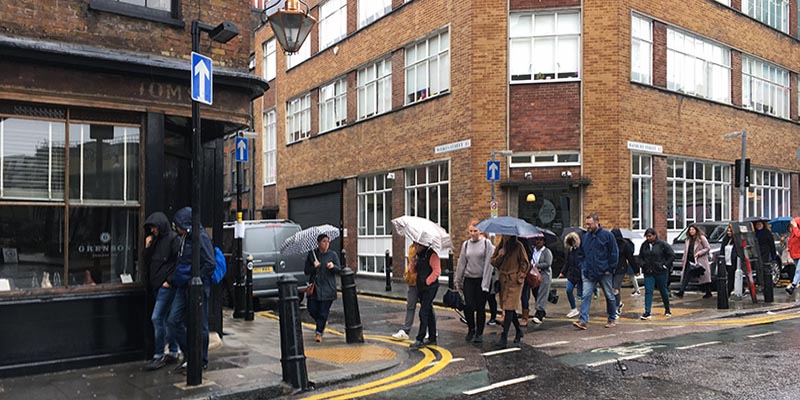 The first venue we visited during the first day was the London Design Fair where the Italian Trade Agency President Mr. Roberto Luongo welcomed us.
Located in the creative heart of East London, the London Design Fair is a four-day industry event that brings together 550 exhibitors from 36 countries, including; independent designers, established brands, international country pavilions, features and exhibitions.
In the afternoon, while the weather was clearing, we moved to Southwark where we visited designjunction and the Steuart Padwick installation's Head Above Water.
We had the pleasure to meet and chat with British designer Steuart Padwick. He presented us the piece of public art designed to support the mental health campaign Time to Change, (run by charities Mind and Rethink Mental Illness) who used this dynamic platform to engage and stimulate the discussion to eradicate mental health-related stigma and discrimination. For sure the best moment of the day: Steuart was very inspiring and emotionally involved.
At designjunction Managing Director Will Sorrell kindly introduced us the exposition and some of the most interesting stands at the Doon Street site where were featured a selection in contemporary furniture as well as accessories and materials from leading international design brands alongside some emerging designers.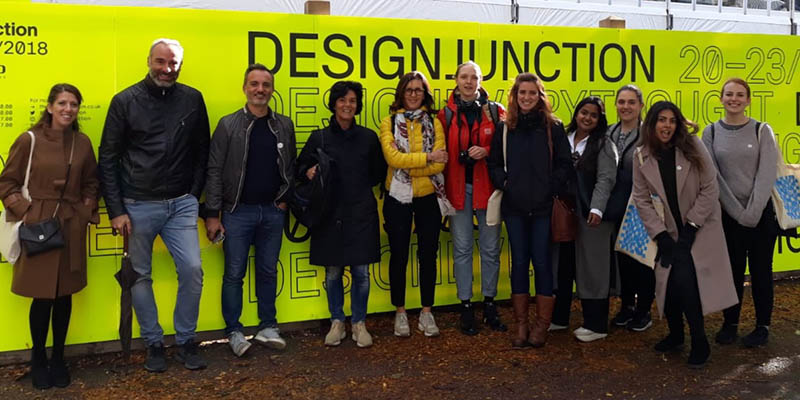 While the first day of the Design Fairs and Architecture Offices Tour in London was dedicated to design, the second day was more focused on architecture firms visits. Luckily it was a fresh and sunny day!
The first visit was dedicated to RIBA, the Royal Institute of British Architects, the cultural and physical headquarter of every British architect where Anthony Palmer guided the tour and told us the history and the evolution of the Institute founded in 1834 and of the headquarter opened by King George V and Queen Mary in 1834 at 66 Portland Place in central London.
During this Architecture Offices Tour in London we experienced even a private guided tour of some of the most important architectural practices AECOM, TP Bennett and Zaha Hadid Gallery. 
The first two visits consisted of a tour of the offices with senior architects, a general presentation of the practice and one of the practice's latest projects. At AECOM we had the pleasure to meet Peter Ayres, AECOM 'Sports Architecture & Engineering Genius' and Practice Director who gave us an insight into his studio's amazing work, which includes major stadiums, cutting edge engineering and parametric design, as well as the yearly design and delivery of the prestigious Serpentine Pavilions. Architect Laura Risseeuw had been so kind to give us the office tour and show us AECOM new flagship headquarter in Aldgate tower. We had even the chance to experience a VR demonstration of their latest augmented and immersive Virtual Reality experiences.
At TP Bennett we had the pleasure to meet Directors Cristiano Testi and Emiliano Acciarito whom introduced us the award-winning architectural, interiors and town planning practice with over 90 years' experience across a broad range of projects in both the private and public sectors. Headquartered in London and with a global network of partners in almost 50 countries, TP Bennett have a broad client base of leading developers, institutions and occupiers including financial, professional services and technology companies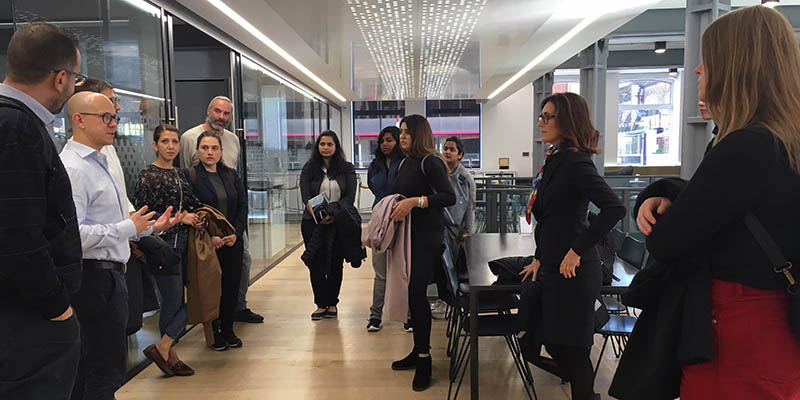 The Zaha Hadid Gallery offered a tour of the latest exhibitions showcasing the work of Zaha Hadid Architects and Zaha Hadid Design.
The Gallery featured recent product collaborations including Zaha Hadid Design for Royal Thai, and Zaha Hadid Architects for Nagami, and a amazing curated presentation of the studio's in-house 3D printing research in construction.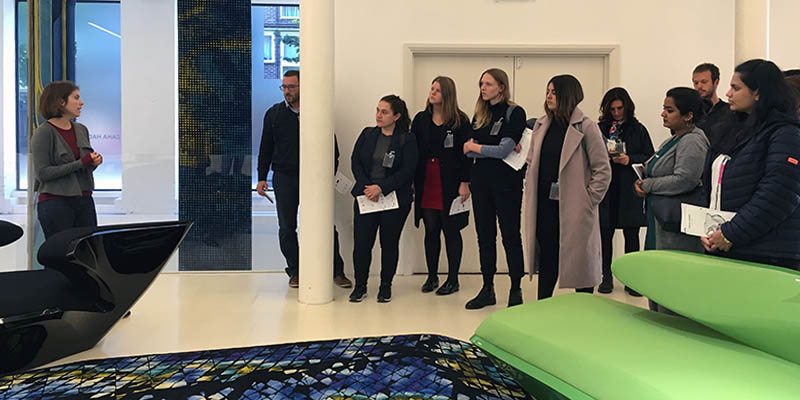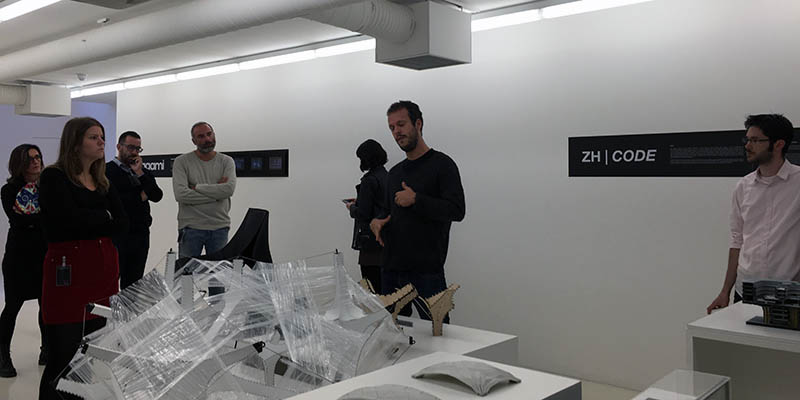 The Architecture Offices Tour in London has been possible thanks to the support of Lavagnoli Marmi an historic name in the marble industry which combines the consolidated traditional crafts of four generations of quarriers, stonemasons and master craftsmen with cutting edge technologies for processing marble and granite, producing particularly in the fields of art, architecture and design.
We haven't been short of relaxing and funny moments thanks to the nice people that attended this unique experience.
Thank you Joana, Maria Rosaria, Paula, Ana, Sarah, Richa, Kudrah, Rutuja, Kristina, Bhavana and Yaz for being part!
I finally want to thank my long term friend Daniel that partnered with me and Architectours for this amazing experience! 
Cheers!! See you next time!!!
see all the pictures on social media using: #architectoursLND18 and #lavagnoli
Full program of our design fairs and architecture offices tour in London
DAY 1 Sunday 23rd September
11.00 Meeting at Patisserie Valerie, Spitalfield, 37 Brushfield St, London
11.30 London Design Fair with the welcome speach of Italian Trade Agency Director Mr. Roberto Luongo
free visit of London Design Fair 13.45 Meeting at the entrance
14.00 Transfer: Bus 388: Commercial Street > Blackfriars South Barge House St, South Bank
14.30 Head Above Water with Steauart Padwick
15.00 designjunction with welcome speach of designjunction Directors
free visit of designjunction fair
DAY 2 Monday 24th September
9.00 Meeting at Royal Institute of British Architects entrance, 66 Portland Place, London
9.30 Royal Institute of British Architects headquarter guided tour
10.45 transfer: Tube Hammersmith and City Line Great Portland Street > Aldgate East
11.30 AECOM London Office guided tour with Creative Director Erik Behrens, Aldgate Tower, 2 Leman Street
14.00 transfer: Bus 40: St Botolph Street > Southwark Street The Borough
14.30 TP Bennett guided tour with directors Cristiano Testi and Caterina Polidoro, 1 America St
16.15 transfer: Tube Northern Line: Borough > Old Street 101 Goswell Rd
17.00 Zaha Hadid Gallery visit Final greetings