Exhibition Hello Denmark celebrates Danish living in Danish Architecture Center (DAC), a meeting place for anyone with an interest in architecture, design, and urban culture.
What do lifeguard stations, cargo bikes, and the aim of living no more than a third of a mile from green areas have in common?
Dutch experience design agency Tinker Imagineers, founded in 1991 and is located in Utrecht, created this new exhibition called Hello Denmark in collaboration with the center.
The exhibition is a tribute to Danish architecture and design. Visitors can explore what has made Denmark and Copenhagen popular throughout the world: a good everyday life. (Here you can discover our selection of best architecture firms in Denmark).
The Danish Architecture Center selected Tinker Imagineers to co-design an exhibition about Danish architecture and design. Tinker Imagineers developed the concept and design that uses Danish everyday life as a way to understand Danish architecture and the significant role it plays in enhancing the quality of life.
Denmark is often cited in international contexts as a role model when it comes to creating optimal living conditions for the population. It has been elected the world's happiest country several times.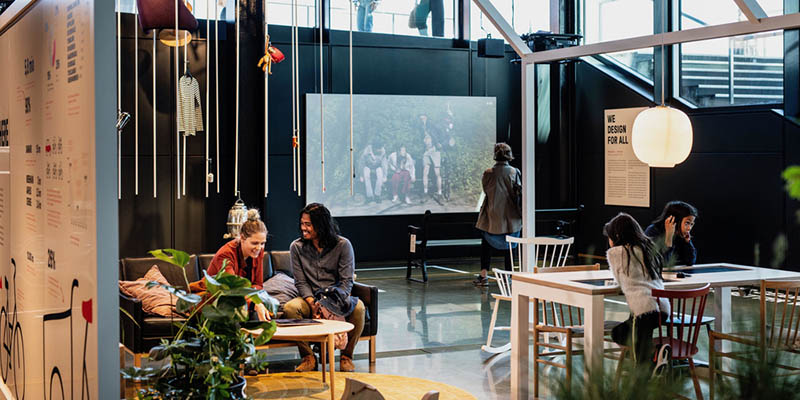 What are the ingredients in the Danish people's coveted recipe for the good life?
In this exhibition, the visitor will experience six installations, each representing an element from the everyday life the Danes value so highly that influence how they build, reside, and live. It is about a close relationship to nature, the trust upon which the society is built, the insistence on 'hygge', the unique bicycle culture, the design-infused society, and the need to live near water. "Hygge" didn't originate in the Danish language but in old Norwegian, where it meant something like "well-being."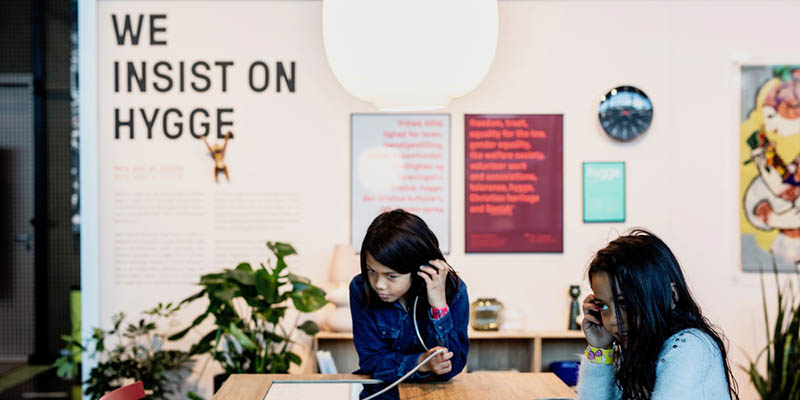 In white frames, a stark contrast to the dark space around them, key Danish objects are presented. In combination with animations and infographics, they explain where these typical Danish values come from. The design makes full use of the transparency of the glass and steel BLOX building (OMA Architects), by creating interactions across its façade to connect the inside with the outside inviting the visitors to come in and see the exhibition.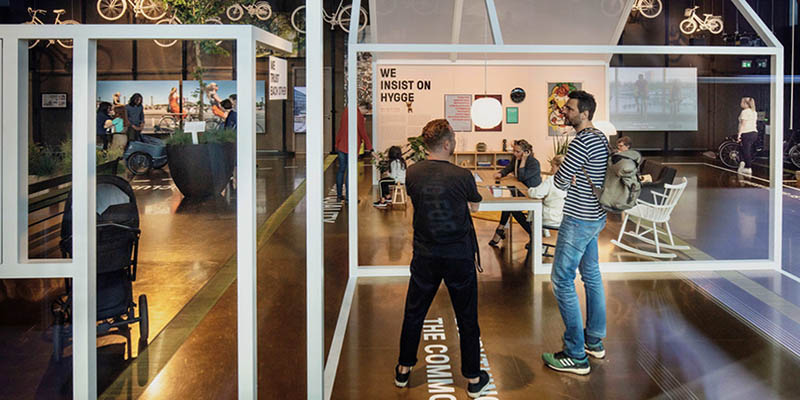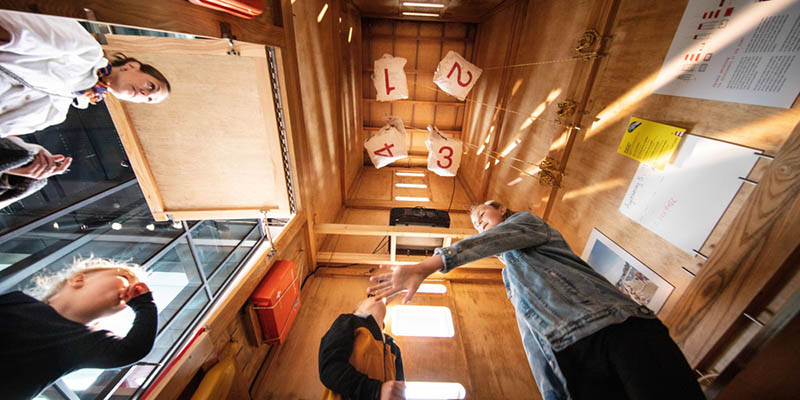 It is not the first time Tinker delivers a project in Denmark. In 2017, Tirpitz Museum opened its doors. An impressive museum hidden in the dune landscape, connected with a WWII bunker of the Atlantikwall. Tinker was commissioned to design and produce the scenography. Tinker is currently developing the new exhibition design for the Natural History Museum in Copenhagen and an exhibition at the new Stevns Klint World Heritage Visitor Centre.
The Hello Denmark exhibition is located in DAC's Golden Gallery.
The exhibition opened on June 8 and will be on show until October 18 this year.
Photo credit: Kontraframe / Danish Architecture Center