Powered by Ulsteinvik is a future-oriented strategy for a circular economy based town on the Norwegian west coast designed by Kaleidoscope in collaboration with the leading Scandinavian engineering and architecture firm Cowi.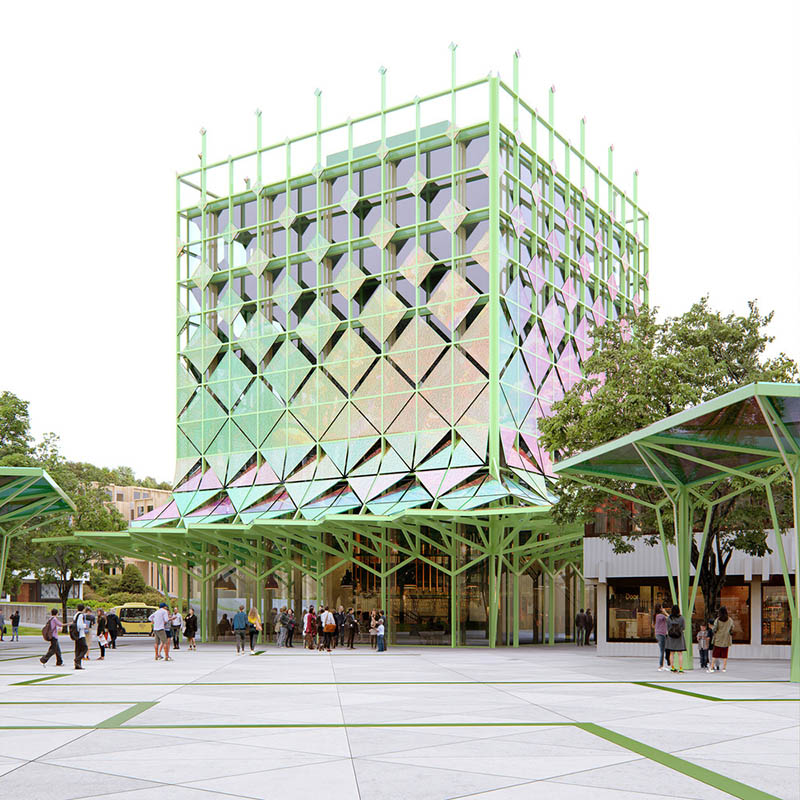 Kaleidoscope is a Norwegian architecture office based in Bergen (Norway) and Helsinki (Finland) that focuses on making good and healthy environments for people and nature. Kaleidoscope is a partner office of the award-winning architecture collective, Nordic Works [Uusi Kaupunki Kollektiivi Oy], which delivers tailor-made participatory processes for urban transformation and has won awards for innovation in the construction industry.
The core idea of Powered by Ulsteinvik is to utilize the location's natural cycles and energy flows to create an attractive place to live and work.
As stated by the Ellen MacArthur Foundation "building a circular economy in the built environment can bring tremendous economic, social, and environmental benefits. If we can reduce congestion, eliminate waste, and bring down costs, higher economic productivity and new growth will allow cities to thrive. New business opportunities will support skills development and jobs"
By creating new meeting places, opening the connections to the sea, and increasing accessibility for pedestrians, a car-based center will be transformed into a lively town center in just a few steps.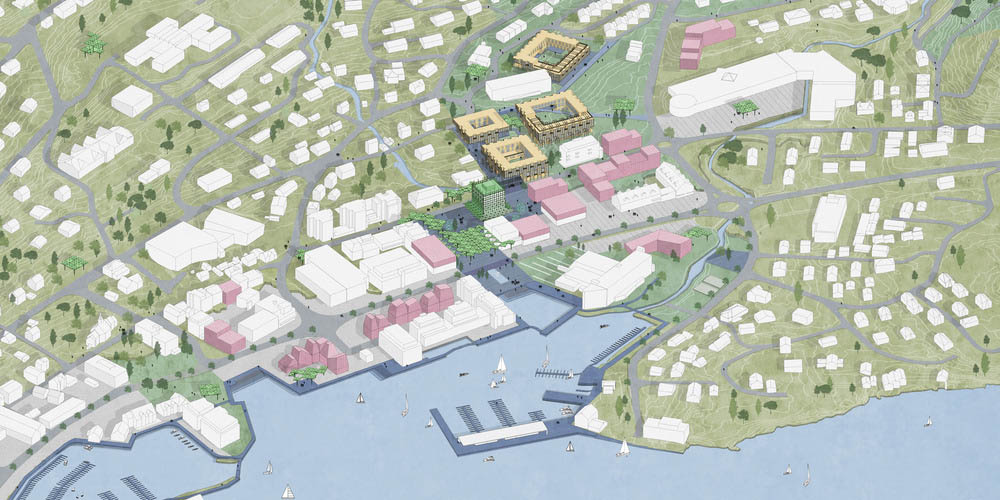 The vision proposes a more concentrated center to form a clear urban structure, and a new multi-purpose square that opens the axis from the sea towards the Bjørndals Minne cultural heritage building, highlighting its existing qualities.
The concept of this circular economy based town of 300-meter is strengthened by combining the existing connections with a new smart-grid, autonomous electric buses, and blue-green structures to provide the city with new energy and a network of attractive meeting places.
The smart-grid is an important overall connection system in the vision. With a plug-in module grid, an urban power system combines renewable energy, technology, and social urban spaces.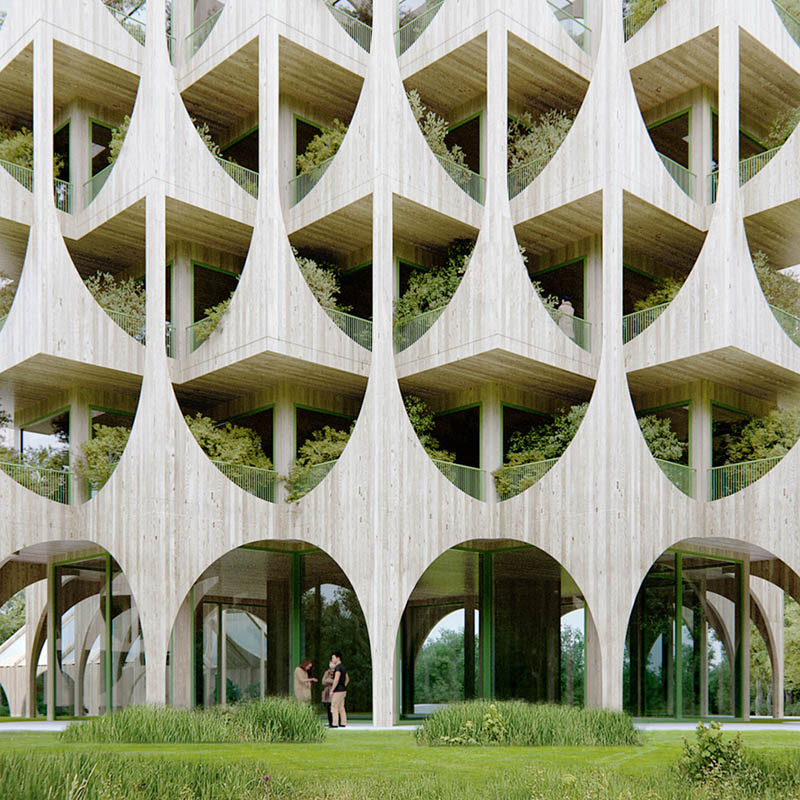 Here you can use the expertise of local businesses to develop a photovoltaic module that we call 'SmartPergola'. SmartPergola creates city roofs, meeting places, generates energy, connects Ulsteinvik, and becomes a point where you can connect both as a city and a citizen, and become Powered by Ulsteinvik!
Blåtur (The Blue path) is a new seafront promenade that connects the green transverse axes in Ulsteinvik, forming part of a new mobility plan. The inner part of the marina has been proposed as an activity center with a maritime playground, where small autonomous boats and automated fishing rods provide digital learning combined with nature experiences.
Furthermore, the vision contains three main concepts: Circular Neighbourhoods in Holsekerdalen, Smarthub in the center, and Generation Gardens in Ulshaugen.
The Circular neighbourhood is a new housing typology with a circular system and shared facilities that provide sustainable solutions. The buildings harvest rainwater from the roofs for use in the apartments. Greywater is transferred to plant beds in the balconies and in the common "GrowHouse", providing nutrient-rich water to green plants and vegetables.
The GrowHouse is a common greenhouse with a large kitchen where residents can cook and eat together and arrange club nights and other social gatherings.
The Smarthub is a multi-functional building forming innovation networks between public and private actors. It contains new town hall premises, a business hub, a public café, and a 24h innovation lab for the whole city. The facade is built up of an external sun protection system with photovoltaic panels that produce electricity for the local smart-grid.
The Generation Gardens feature shared facilities between kindergarten, youth club, care homes, and offices for health services. The perimeter configurations create graded outdoor areas with sheltered inner courtyards for children to play safely. Its proximity to the city center brings activity and life to the urban context.
Illustrations by KVANT-1