Milan Design Week 2019 is already ended and we still miss it.
Year by year it's enhancing and growing in terms of number of events and participation.
The 58th edition of the Salone del Mobile.Milano declared more than 380.000 attendees, over the 6 days, from 181 different countries made for an 12% increase over the 2017 edition, which also featured Euroluce and Workplace3.0. 250 thousand visitors estimated by Studiolabo, a company that manages both Brera Design District and the Fuorisalone.it portal 20 thousand more than last year. SuperStudio owner Gisella Borioli in Zona Tortona declared 90 thousand visitors.  200 thousand visitors at Statale University for Human Spaces, the Interni Magazine exhibition.
For a couple of days we tried to stay away from the crowded "design oriented" events avoiding queues and focusing our visits to architecture firms in Milan and architecture oriented events.
Here we share the highlights of our two days tour into architecture.
Park Associati hosted in its studio the project "Insecure: Public Space in the Age of Big Data", designed by Žan Kobal and Weixiao Shen and curated by Virginio Briatore. The project aims to challenge the status quo of surveillance systems, by changing the nature of its very core – the surveillance camera.
The intriguing duo of designers, Žan Kobal and Weixiao Shen, from the Design Academy Eindhoven has imagined a vision of an Orwellian future where a digital dictatorship leads to a death of public space, a limitation of individual privacy and a controlled society.
COS, inside the courtyard and the garden of Palazzo Isimbardi, presented Conifera, a large-scale 3D printed architectural installation made with renewable resources by architect Arthur Mamou-Mani the young designer named RIBA's rising star in 2017. Probably the most instagrammed installation at Milan Design Week 2019.
David Chipperfield Architects Milan presented projects and objects in the basement of its office.
Several David Chipperfield designed objects have been on show, including the new, black steel w102 lamps for Wästberg, as well as the black Tonale tableware, Santiago cutlery set, Piana chair, and the Moka espresso coffee maker, all for Alessi. The Moka exhibition includes sketches, drawings, images and prototypes as well as the final product in three sizes – one, three and six cups.
Also on display are the competition panels and a model for the recently won competition to design a new campus for the University of Padua.
Design studio Space Encounters partnered with Creative Holland to build a temporary museum. The installation is made to combine room for art and design, with atmospheres that promote relaxation, contemplation and focus amidst the pace of the Salone di Mobile. The Museum was designed as a journey through different spaces in which visitors constantly interact with Dutch creativity.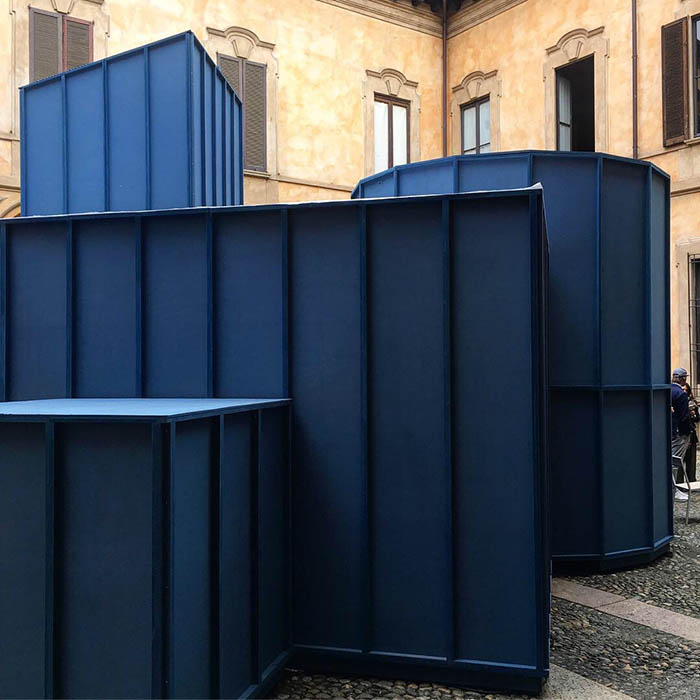 LG presented their LG Signature OLED TV with a space designed by the renowned British architecture firm Foster + Partners. They redefined the relationship between a TV and the space it inhabits.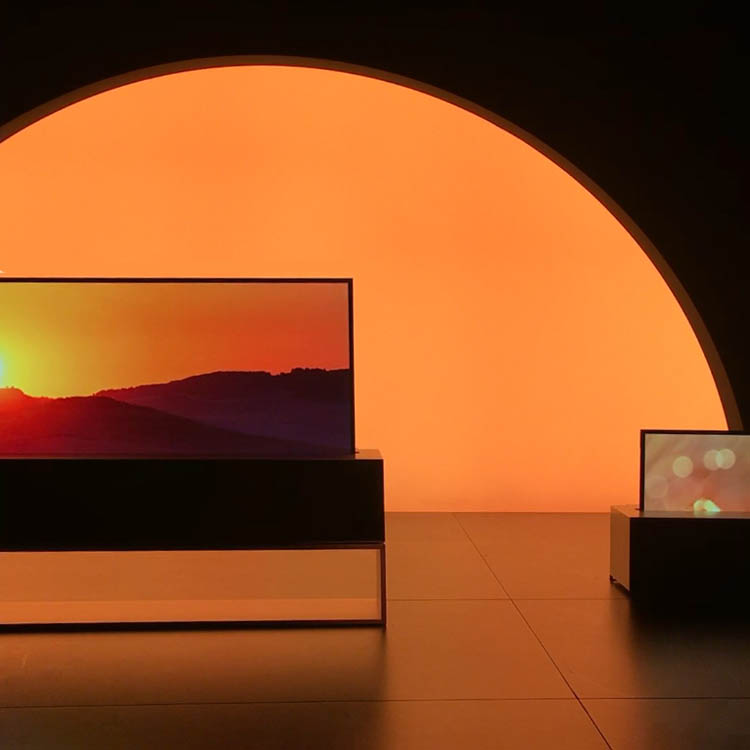 Inside their office in via Varese 15, Michele De Lucchi and Amdl Circle presented Many Hands Earth Stations: a new typology of buildings aimed at facilitating and promoting  encounters and cultural exchange, conceived to foster productive human relationships. The Many Hands Earth Stations are destined for those areas of the planet that are distinguished by particular climatic conditions that have fostered the birth of a local craftsmanship with a strong identity which continues to flourish even today and despite the expansion of the global economy.
At Statale University of Milan Interni Magazine presented Human Spaces a stimulus, on multiple scales and project dimensions, to put human beings and their vital needs back at the center of design.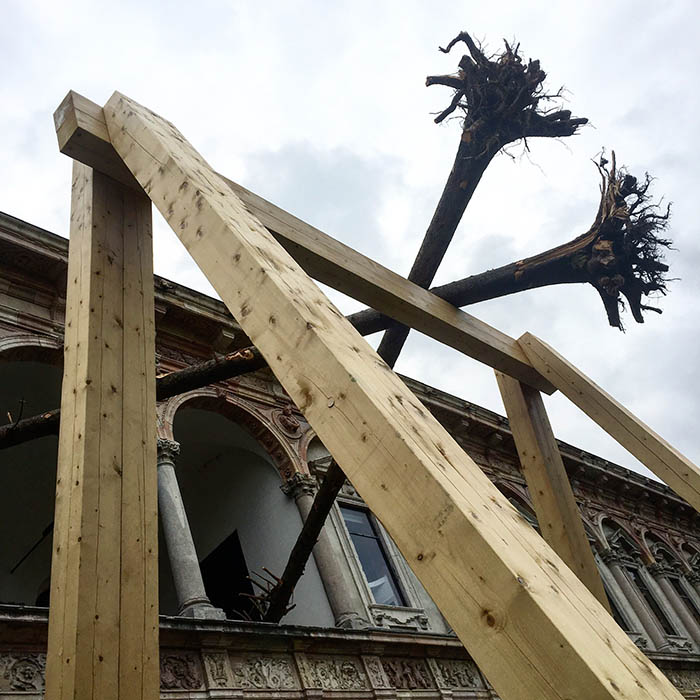 La Foresta dei Violini, Piuarch's project at Human Spaces. The project celebrates the primordial architecture of the forest, respecting its structures and forms of intersection with the planet and its inhabitants.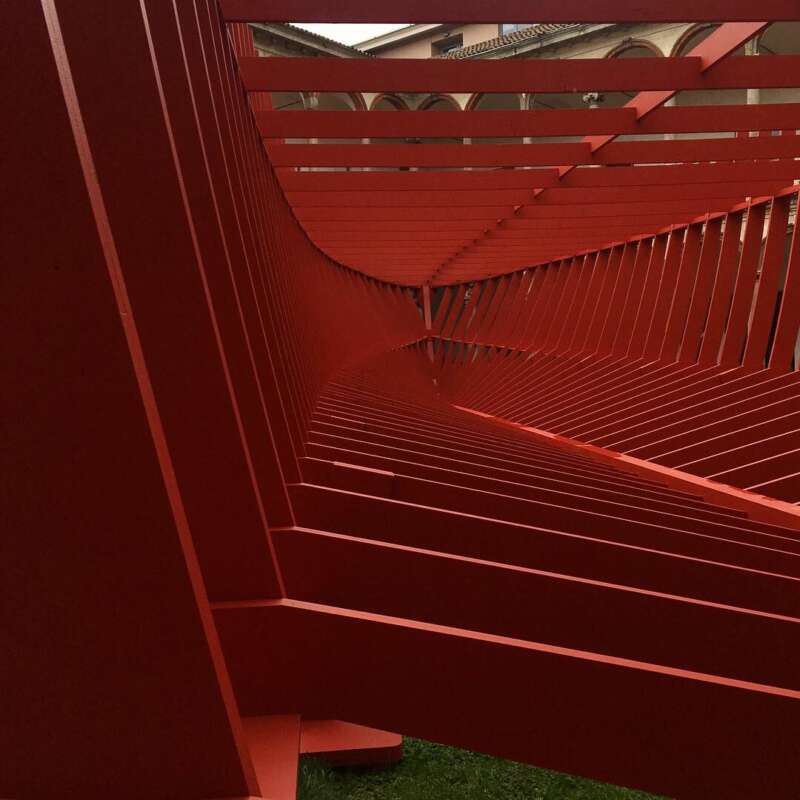 From shipyard to courtyard by Lissoni Associati for San Lorenzo. With a length of 33 meters, the evocative work is made in red painted wood, the typical color of the paint applied to the keels of boats for protection. With an evident reference to the wooden structures made by shipwrights, Piero Lissoni reinterprets the hull of a SX112 Sanlorenzo yacht in an abstract way.
Last but not the least we completed our Milan Design Week 2019 architecture tour at One Works office in via Sciesa 3. They presented Waves an installation by Francesca Benedetto, with the artistic collaboration of Violaine Buet, that inaugurates "(f)Acts on Climate Change", the cycle of initiatives promoted by One Works and curated by Daniele Moretti, Managing Editor at SkyTg24, who aims to stimulate discussions on the importance of a new project for the world.
The amazing Milan Design Week 2019 has finally ended but we are thrilled and now focused on our new adventure in partnership with the London Festival of Architecture next June!
Discover more about our architecture educational tours here!!!