2022 INSIDE Festival reveals the shortlisted projects! Today, while our public buildings, restaurants, retail stores, hotels and workplaces welcome people to come together again, 2022 INSIDE Festival shortlisted interior design firms that are looking toward the future.
INSIDE is the sister festival of the World Architecture Festival (WAF), the world's biggest live architectural awards programme, and celebrates the finest examples of interior design, internationally.
2022 INSIDE Festival highlights projects that give a window into interior design trends to watch out for.
The 2022 world shortlist represents 68 interior projects in cities including: Sydney, Hong Kong, Brooklyn, Mumbai, Istanbul, Milan, Beijing, Lisbon and London. Design firms to feature in this year's shortlist include prominent architecture and interior design practices such as Allford Hall Monaghan Morris, Perkins and Will, Sordo Madaleno, Woods Bagot, Cox Architecture, OHLAB, Benedetti Architects, noa* network of architecture, JKMM Architects and M Moser Associates.
Amongst the Public Buildings to be shortlisted this year is the Victorian Pride Centre, designed by BAU and GAA to provide a profoundly welcoming and safe place for Australia's LGBTIQ+ communities, whilst shortlisted Housing projects include a living space by MAS for an art collector in Cesme, Turkey, featuring a series of porous, open plan living spaces, arranged around sculpted white architectural elements.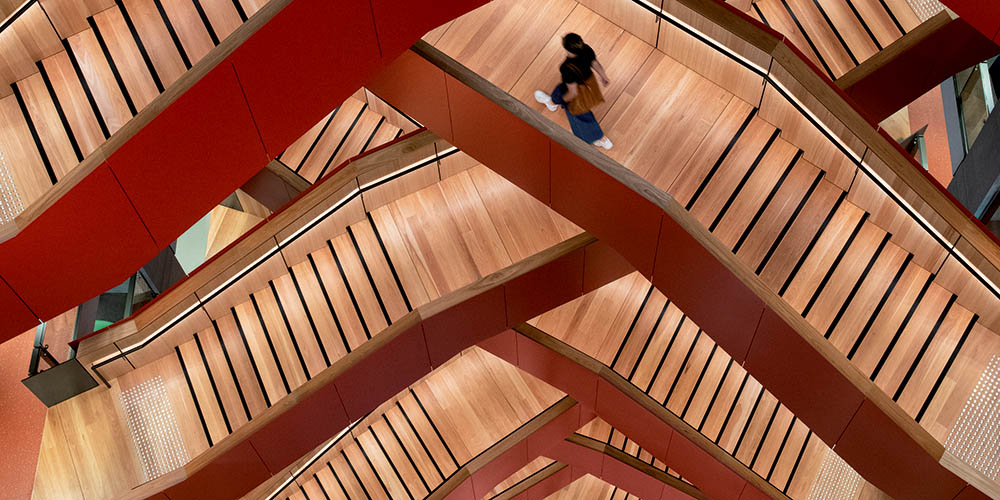 NAB 3 Parramatta Square by Woods Bagot, Sydney, Australia | Photography: Nicole England
Shortlisted Workplace interiors include NAB 3PS by Woods Bagot, 13 levels of adaptable workspace interconnected by a central signature red staircase, and Dyson's Global HQ by M Moser Associates, which transforms a former turbine hall into an inner sanctum for engineering innovation. Shortlisted Bar and Restaurant interiors include the Ling Ling restaurant on the 56th floor of a skyscraper in Mexico City, designed by Sordo Madaleno to emulate a typical Mexican courtyard using exuberant vegetation.
Ling Ling by Sordo Madaleno Arquitectos, Mexico City, Mexico | Photography: LGMStudio
Three years on since the global community of designers have been able to meet live at INSIDE, this year's festival returns as an in-person event, in Lisbon, from 30 November – 2 December.
Together with World Architecture Festival 2022 this is the first time INSIDE has been hosted in the Portuguese capital, following previous editions in Amsterdam, Barcelona, Singapore and Berlin.
 "We reviewed everything from the fabulous to the austere, and found much to admire. Trends in this year's entries ranged from the small to the large scale and included the increasing deployment of wood in both structural and decorative ways; the use of spiral staircases to improve circulation; insertion of nature, including use of internal trees; and an increasing interest in the creative re-use of historic buildings, many of them industrial. Many projects focused on the flow of users in the interior space, with use of lobbies, landings and stairs for social and learning engagement.

This was accompanied by an interest in natural light, the blending of interior and external spaces, and the contrast between stylish design and furniture and raw construction materials evident in walls and ceilings. There was also ample evidence of an interest with display: corporate branding, exhibition space, retail offers (both real and virtual), and meanwhile (temporary) uses." says Paul Finch, INSIDE programme director.
The theme for the 2022 festival is 'Together', and as part of a live events programme, an international panel of speakers will explore and debate how architecture and interiors are responding to the renewal of collective life post-pandemic, and in the light of commitments to combatting climate change.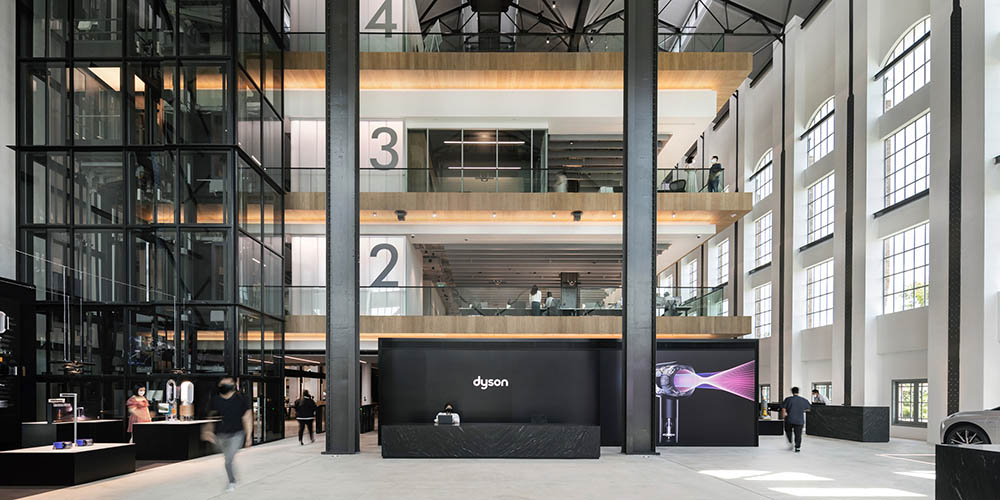 Dyson Global HQ, St James Power Station by M Moser Associates Singapore, Singapore | Image credit: Dyson
During the festival, to compete live for one of the eleven INSIDE category awards, and the overall winner of the 'World Interior of the Year' nominees will present their projects to international judging panels including Olga Bolshanina, Linzi Cassels, James Grose and Li Wan.