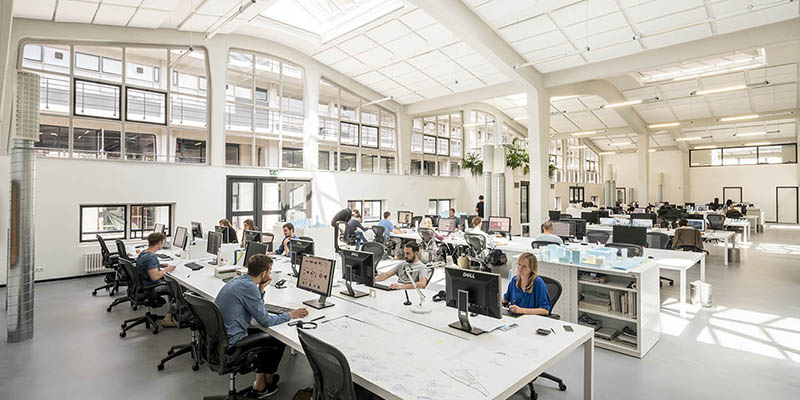 MVRDV Headquarter, Rotterdam, The Netherlands | Photography: Ossip
The transition to home working has been successful and every company informed that they are fully committed to their clients, partners, and projects…but how it will be the future of relations at work and workplaces after COVID-19?
However we see on social media many people appreciating the flexibility of working from home, there is even a negative aspect of remote working: people miss their colleagues, they miss the daily communication, the daily knowledge sharing and generating ideas and solutions together.
While social distancing would seem to be a necessary and hopefully temporary action, COVID-19 is an opportunity to rethink everything, how cities and communities are built to be even more healthy, beautiful and green, how we think about the workplace, how we interact with people.
We asked some leading architects and experts their thoughts about the future of relations at work and workplaces after COVID-19.
"We are extremely proud that our team almost overnight was able to work from home. All of the 240 collaborators in Rotterdam, Shanghai and Paris work from home to help our health system and save lives. We expected problems with communication and efficiency but work just continued as if nothing happened" says Jan Knikker, Partner and Strategy and Development at MVRDV,  "I think we can learn from that for the future. We don't need to be in the office that much, we don't need to travel so much and we can connect online with more people than in a conference centre fit. We can interact, be social and connect to people. 
The collateral effect is the environment, we all experience better air quality, not as a theory but as a day to day fact. I hope it will help accelerate the green deal now that we are used to go to parks instead of shopping, have rush hours without traffic jams and enjoy office life with a lot more self-determination. 
In terms of architecture, we now analyze office layouts and make them ready for the 1,5-meter economy and we even do capacity studies on the city: Imagine our offices and shops can only hold 50% of the former capacity, what will this mean for the life in the city? Do we need longer opening hours? Do we need more trains? Do we need more staff?"
MVRDV will answer soon to all these questions publishing a study.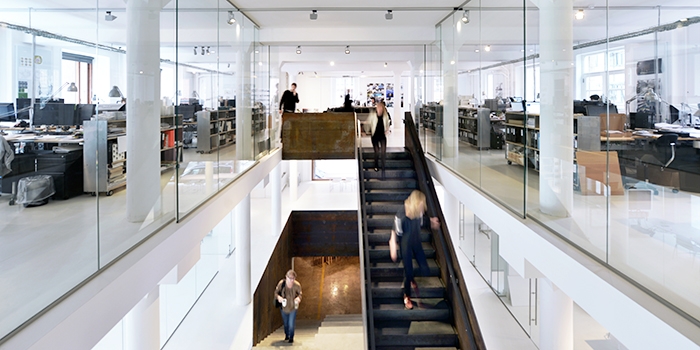 According to Tiago Pereira, Partner and Design Principal at Schmidt Hammer Lassen Architects said "As communities begin gradually opening again and people return to a 'new normal', it will become clear that new metrics and demands for the workplace after COVID-19 will require new standards. That includes more easily accommodated solutions such as flexible physical distance between people and professional cleaning solutions, to longer-term considerations like square metres per person and materiality of surfaces when designing workplaces after COVID-19" 
Cristiano Testi, Principal Director at TP Bennett, we met in one of our educational studio visits during London Festival of Architecture, says "I think the future of workplaces after COVID-19 will be all about human interaction – the social, creative, and spontaneous interactions that can't be replicated with technology, but are where the best ideas and innovations occur. In parallel, there will be a greater focus on health and wellbeing as a result of the pandemic. We will see more humane space standards and higher qualities of light, air and temperature to ensure the office is no less healthy than the home or the outdoors"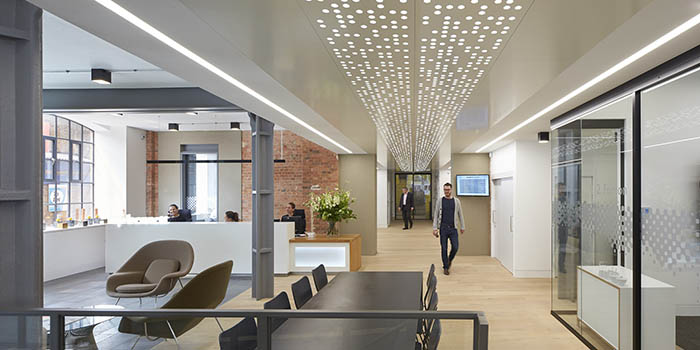 TP Bennett headquarter, London, UK
'Typically, pre-pandemic workspaces were designed to maximise occupancy within open plan settings whilst providing communal areas made to encourage face to face collaboration and interaction – says Tim Murray, Director of Moxon Architects  – As we begin to slowly re-emerge from this period of isolation there will undoubtedly be some hesitance and nervousness about returning to spaces where working in such close proximity was the norm. Creating work spaces that incorporate some degree of social distancing without impacting spatial efficiency or creating uninviting environments will be challenging but possible. There may be more emphasis placed on enhancing spaces dedicated to digital interaction making them more than just a meeting room with a screen on the wall. Additionally, the cleanliness of workspaces and the rate that they are maintained will become a priority to their users. This could affect the palette of materials typically relied on for internal finishes and furniture within the workspace environment. Regulations around the efficiency and quality of ventilation (be it natural or mechanical) within our workspaces , may also come under further scrutiny to ensure that the air we are breathing is as fresh and clean as possible."
Matthew Blain, Principal at Hassell "The fast tracking of solutions that cut through IT and HR red-tape issues in the face of the Covid crisis will allow companies to embrace agile working in the long-term, and reduce their office space square footage by a third – to work smarter and more efficiently. As the Covid-19 crisis has hit every single office worker, and technology means that, theoretically, everyone can work at home; this isn't just about introducing flexible working for blue chip companies and middle class employees – but creating a positive shift away from the Big Brother mentality prevalent in work environments such as call centres, and more conservative sectors such as legal and financial – where it has been proven that confidential work can be carried as easily, or more easily, remotely. Due to strong links between worker autonomy and mental health, a positive outcome to come from the crisis could then be an uplift in well-being in the workplace, in the sectors it is needed most.​"
Julian de Metz, Founder of dMFK says 'The COVID–19 crisis seems to be accelerating existing trends which is ultimately helpful and optimistic for flexible workspace. The majority of tenants already knew they could work anywhere, but COVID-19 has proved this to anyone on a screen. Working from home won't be the only future – it is just one of a range of now accepted workplaces, outside the traditional densely planned demise. Contact tracing, testing and impeccable management will mean increased confidence to move closer to each other, and the quality flexible workspace providers will continue to increase range and quality of working options, evolving their product to accept this new norm. The ones that do this will survive, and the greedy ones won't!
We are currently working on the design of our 10th and largest project for TOG and, as we work at home, intelligently addressing these issues is at the forefront of our minds. There's plenty we can do within the workspaces, but mass travel remains the biggest question. We can help by incorporating facilities to encourage alternative methods of travel such as providing scooter bays and increasing amenities for cyclists. Larger providers will also be able to offer access to a range of buildings by considering membership options. Let's not forget, it was the progressive workspace providers and designers who fundamentally shifted the market in the first place…from a dull 'one size fits all' institutional specification to one that listened to its market.  It is those who are best placed to adapt to our new reality, whatever it is.'
Leanne Tritton founder at ING Media says "For the foreseeable future, as organisations come to terms with how they manage the logistics around social distancing, I am assuming that there will be a fairly-even split between home and office-based working. Rotas will be established to ensure that offices are not over-crowded. We have seen that video conferencing apps can effectively allow work to continue with little disruption. However, longer term, I still see the 'office' as being central to how we work, and my reason is based on the social function of why we leave our homes to go to our place of work: our 'office' provides the other part of our lives. It's where we can enjoy different relationships with the people around us, develop different parts of our personality and be 'other' than what we are at home. I was on a teams meeting recently with a 'master of the universe' and was struck by how the domestic setting stripped him of his 'power'. His teenage son walked into the room and had the look of disregard that many teenagers reserve for their parents. It's a feeling that working mothers have always known. The office can sometimes be a respite from home and an important place where you get to flex your brain and the other you. I can't see that changing in the longer term."
Even though the situation is still developing, already the COVID-19 pandemic is bearing new design theories. Many designers and architects anticipate the broad implementation of automated touchless technologies—such as voice-activated elevators, hands-free light switches, and cellphone-controlled room entry—in public spaces to mitigate against contagion. we will have to make sure to follow health and safety recommendations, therefore 'business as usual' is challenged. Social distancing measures and potentially the use of adequate PPE might be recommended to secure business continuity"
"We have had to learn so many things during the Covid-19 pandemic – says Tommaso Mosconi Global Sales & Marketing Coordinator at Tecno – On the one hand, we have learned some surprising things: we can work from home, and we can do so efficiently.  Our home has now more than ever before become the place where everything takes place, safely, working, the venue for the only social relations possible. Doing everything here has made it clear that perhaps we need new objects and new products. Things will soon be more or less back to normal, but we have learned something about work organisational models that we should implement."
He added "There will still be co-working spaces, but they will have to ensure improved relations, there will be tweaks to the layout to allow greater safety. Safety which can be organised, planned, by setting aside rooms and work tables consistent with the number of people who have to meet up. This is how the configurable products by Tecno such as Clavis and IoT Solution technologies with digital platforms will be indispensable tools to the new way of working. Working from home has definitely given us some food for thought"
The future of relations at work and workplaces after COVID-19 will for sure be different: technology, new rules and common sense will help us.
But human interactions will be never replaced by digital ones.
For sure, we will get out of it better than how we got in!