MATA Architects is an RIBA chartered architecture practice based in Westminster, Central London. The practice was founded in 2015 by Dan Marks as a collaborative studio to develop projects at a range of scales; from bespoke furniture to new build and open space/public realm.
Their work is guided by the fundamentals – manipulation of light and shadow, honest use of materials put together with the aim of creating spaces that are beautiful but at the same time functional and pragmatic…and Slim Studios by MATA Architects is for sure one of those projects.
MATA Architects were commissioned by a developer client to maximise the rental value of a 3 storey terraced property on Clerkenwell Road, in the Hatton Garden Conservation Area.
At the time of purchase, the property was configured as a single-family dwelling over 1st, 2nd and 3rd floors which was vacant and in a state of disrepair. This was situated above a cafe at ground floor with ancillary space at lower ground floor. The cafe was in operation and the only source of income from the building.
After a process of negotiations with the planners, the architects achieved planning to convert the single dwelling into 3 individual, high-end studio flats including extensions at first and third floor.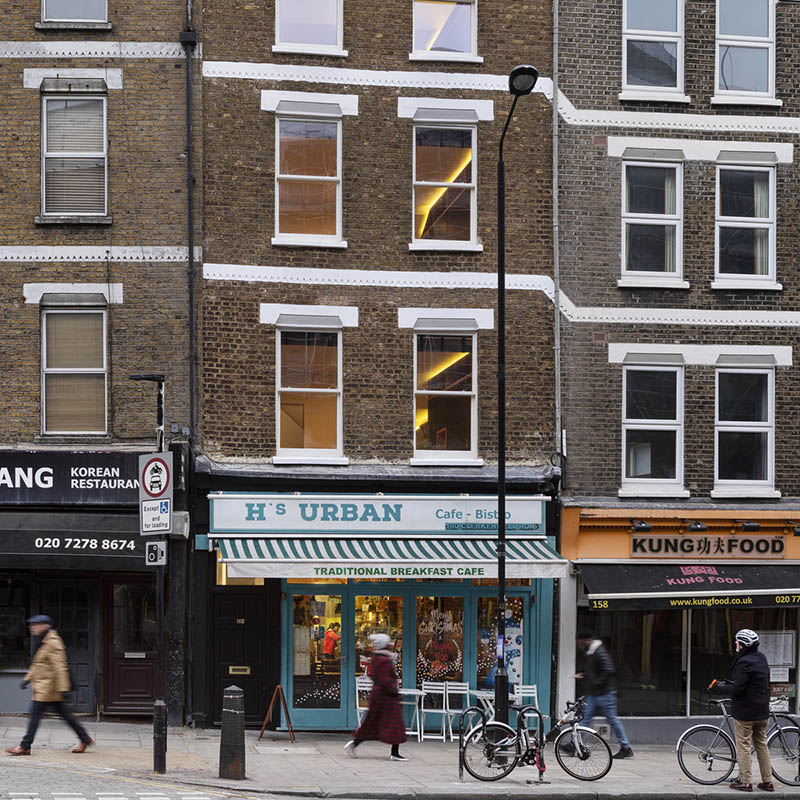 Their concept for the scheme utilises the existing staggered floor plates to create characterful, split-level accommodation with front and rear aspects.
They developed the project's central concept of a 'living wall'; a continuous wall of joinery that runs along the back wall of each studio from the living/ sleeping level and down to the kitchen.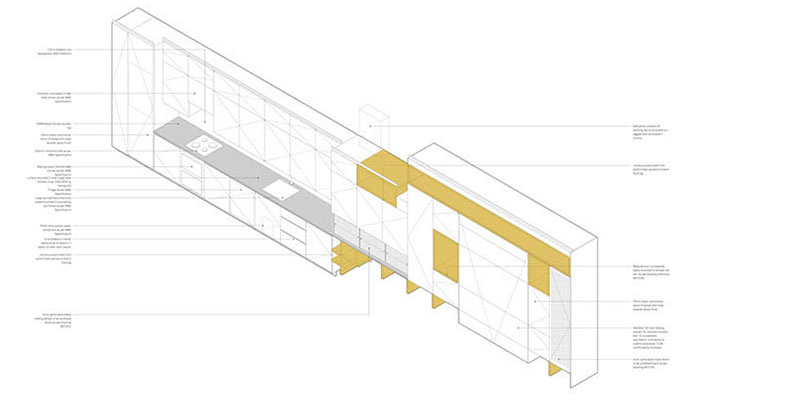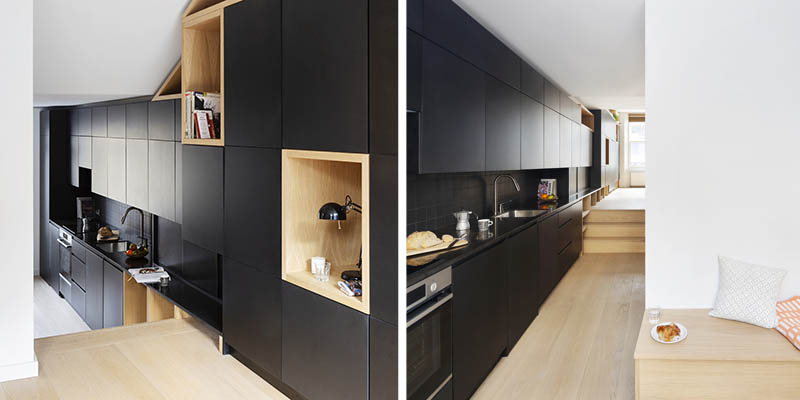 front and rear views
This wall of joinery contains all of the elements of every day life: a fold-up bed, plenty of storage, kitchen, etc. so that clutter is easily contained and these small studio flats (average 37sq.m) don't feel so small.
As MATA Architects Founding Director Dan Marks said "The project is a unique response to a common urban condition: the densification of city centres. Now more than ever, space is at a premium. We have tried to make the best use possible through the concept of the continuous 'living wall' housing all essential components for living"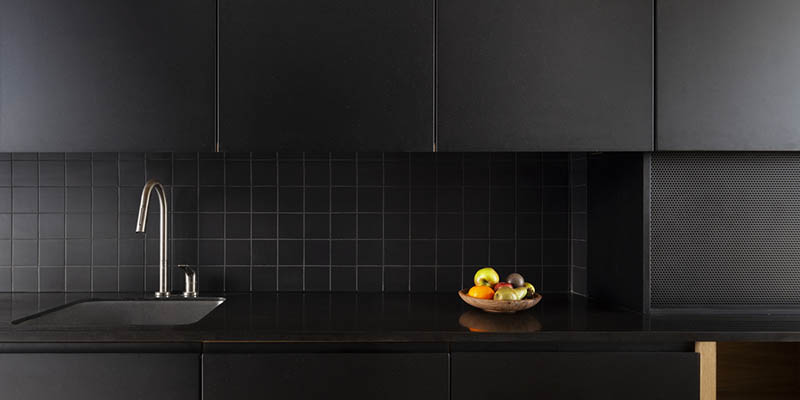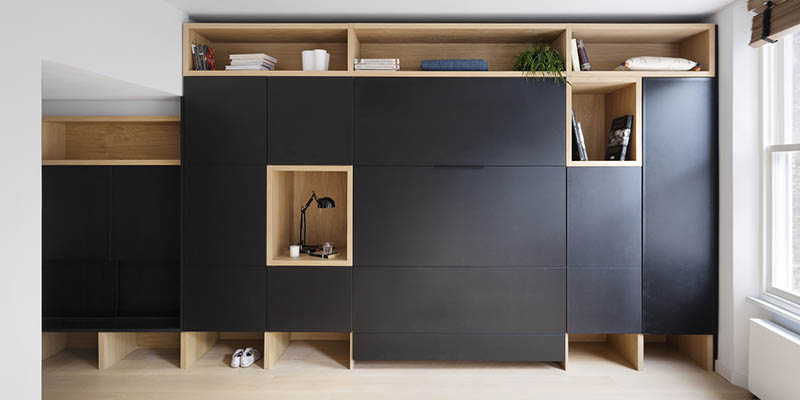 All joinery is bespoke. All external facing joinery is Valchromat, an innovative product that combines the natural features of wood to the brightness of colours and allows exploring the third dimension, the beauty of textures and the best of engineering. Internal carcasses are made of Egger boards.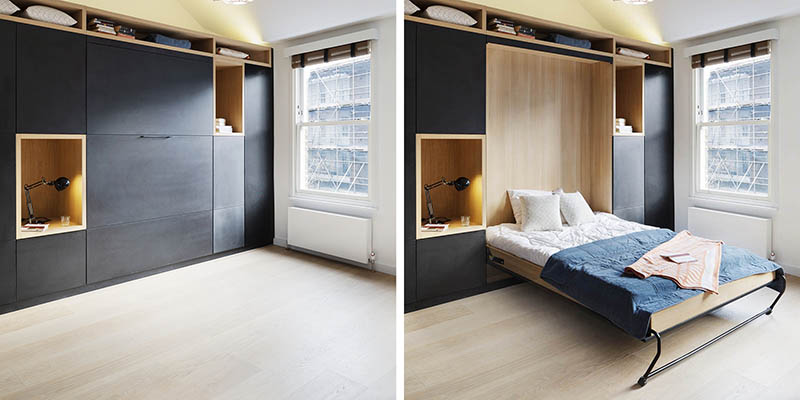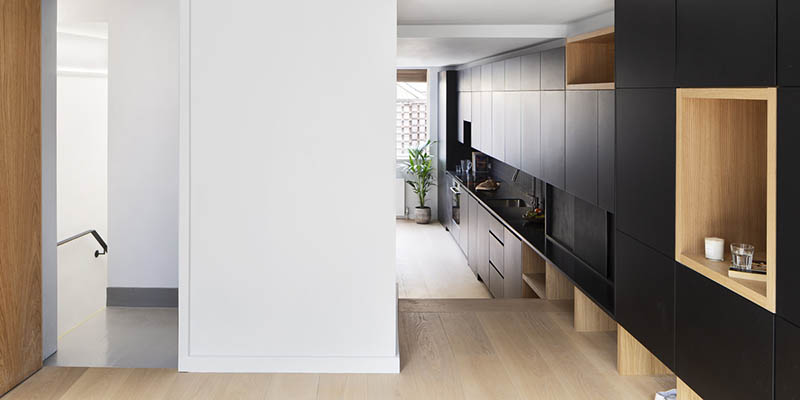 All discrete lighting are supplied by Ecoled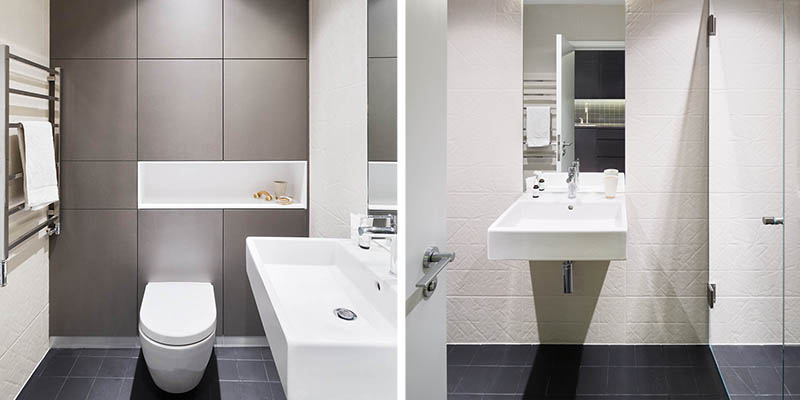 Mutina folded porcelain tiles and Durvait WC and sink
Courtesy: MATA Architects
Photography: Ollie Hammick