Here we go! Back at work to prepare 2021 architecture firm visits after a socially distanced holiday, we are asking ourselves how to fly again during COVID-19 and how we are going to face COVID-19 second wave.
Countries across Europe are seeing a resurgence in COVID-19 cases after successfully controlling outbreaks early in the year. Italy and the UK — among Europe's worst-hit countries — are seeing a resurgence but, so far at least, nothing like March and April. France, the Netherlands and Spain are likely dealing with the much-feared second wave and have started taking action to curb it.
If you haven't stepped foot in an airport since before Covid-19 restrictions were introduced, it can be hard to know what to expect, especially as measures change constantly, such as the increasing adoption of test-on-arrival facilities.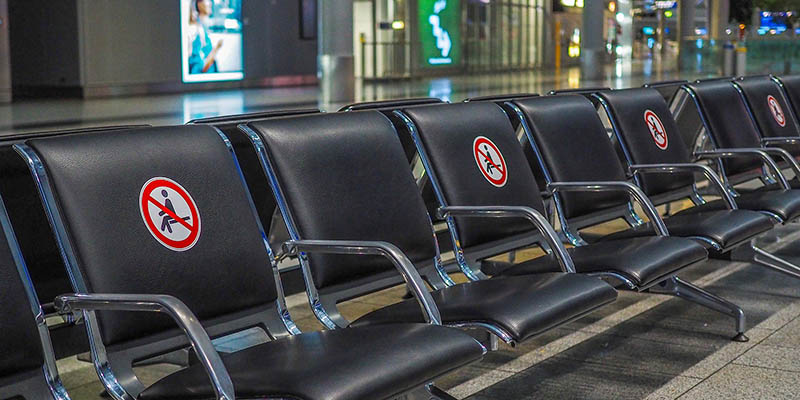 All the talk of bubbles, corridors and bridges can be confusing. Nina Brooks, Director Security, Facilitiation and I.T at ACI World, joined the CWT podcast series "Business Travel: On The Fly" and told how to fly again after COVID-19. She provides guidance and support to the airport community, represents airports interests with regulators, and encourages industry collaboration to identify improvements in passenger processes and the overall travel experience.
Reassuringly, there's a huge amount of work going on behind the scenes from airports, airlines, governments and organizations like WHO and IATA towards common policies, coordination, and communication. But what about travelers? Nina Brooks said three things to fly again during COVID-19.
1. Before you travel: If you can, book refundable tickets and check again before you fly. Then, do as much as you can at home. Check-in, pay extra baggage fees, and even use a luggage pick-up service to reduce mixing and queuing at the airport.
2. Parking: There may be longer waits at peak times as buses that shuttle travelers are disinfected frequently and fewer travelers are allowed on board. We're also seeing touchless parking payments.
3. At Departures: You may see that access is restricted so that only the traveler is allowed inside the airport, bar unaccompanied minors, and passengers with disabilities. People who don't need to be there may not be allowed in. Some airports are doing temperature screenings. Check your airport's information page for details before you travel. Download the CWT easy-to-follow checklist and reduce risk during your trip.
Airport testing for Covid-19 is taking off from Europe to the U.S. Not only as a way of allowing travelers to bypass mandatory quarantine at their destination or back home, but to stave off the threat of a second wave of infections being imported by returning holidaymakers.
Heathrow Airport announced their facility for COVID-19 testing is set up and ready for use. The facility in Terminal 2 enables arriving passengers to be tested for COVID-19 upon landing and know just hours later if they have tested positive. More than 13,000 passenger tests can be carried out each day using the existing facility, which can be further scaled with demand. It is hoped that with approval from the Government, people testing negative during the process will be allowed to exit quarantine early.
Paris Airport, in addition to measures taken by the French authorities at the entry in France, is setting up temperature screenings with thermal cameras at your arrival in Paris, in the luggage delivery area. If your temperature is above 38°C, you will be invited to proceed to a second temperature check with a contact-less thermometer. If your temperature is confirmed above the indicated level, we will suggest you a medical visit with a doctor who will, if required, offer you to be tested with a COVID-19 PCR test.
At Milano Malpensa and every airport in Italy, upon arrival, COVID-19 nasal swab tests have been set up for travelers after visiting Malta, Spain, Croatia and Greece. Passengers will receive an email when the test is ready usually within 24/48 hours. If the test is positive or mildly positive, passengers must self-isolate immediately. The Coronavirus swab test is free.  Passengers who don't manage to fix an appointment must get in touch with their Local Health Agency within 48 hours upon arrival in Italy. Information is available on the website.
Frankfurt Airport has just become the first German airport to receive the new "Safe from Covid-19" quality seal from TÜV Hesse, the technical inspection association of the state of Hesse. Beginning on August 8, 2020, all travelers from high-risk areas must be tested either no more than 48 hours prior to flying or free of charge 72 hours after arriving in Germany.
Denmark further reopens borders and eases travel advice for countries in the EU and Schengen area, as well as the UK. Objective criteria have been introduced which will determine the countries for which the borders will be opened.
As stated by the World Health Organization, how well the tests work depends on several factors, including the time from onset of illness, the concentration of virus in the specimen, the quality of the specimen collected from a person and how it is processed, and the precise formulation of the reagents in the test kits. Based on experience with antigen-based RDTs for other respiratory diseases such as influenza, in which affected patients have comparable concentrations of influenza virus in respiratory samples as seen in COVID-19, the sensitivity of these tests might be expected to vary from 34% to 80%.
This means that some travellers will slip through the net… Based on current data, the World Health Organization does not recommend the use of antibody-detecting rapid diagnostic tests for patient care but encourages the continuation of work to establish their usefulness in disease surveillance and epidemiologic research.
From one side, scientists and researchers are working to enhance the COVID-19 diagnostics and to develop and interpret data that might indicate specific areas where such tests can be useful for clinical management of cases, epidemiologic understanding, and/or infection control.
On the other side Airports, Industry Stakeholders and Governments are working to keep the disease away and let the people travel safely.
Even many renowned architecture firms took part to support this process:
One Works supported ACI Europe for the development of Guidelines for a Healthy Passenger Experience to complement and fully align with the recent joint EASA & ECDC official Guidance joint COVID-19 Aviation Health Safety Protocol.
Luis Vidal + Architects said that airports are a reflection of what is going on in the world. "The airports of the future will be "flexible", maximizing square footage to create a sense of structure and order while providing travelers a feeling of space, cleanliness and safety. We will see the birth of new technologies utilizing artificial intelligence and big data to process information. We will also see new methods of diagnosis, and we will need to accommodate for transition spaces for those that will not be allowed to travel on planes or come into our cities"
Gensler highlighted the importance to restore traveler confidence. "If we are going to redesign the stress points in the airport experience and restore confidence, the first step is to understand and address passenger needs in a COVID-19 world. Physical distancing, touchless technology, and environmental monitoring top the list as must-haves for future travelers. These measures must be implemented from the curbside to the boarding gate, and everywhere in between."
To fly again during COVID-19, as travelers, we all have to do our part to fly again during COVID-19, wearing masks, replacing them with new ones every 4 hours during the flights, maintaining social distancing, respecting queues and self-isolating ourselves if you have any symptoms of coronavirus (a high temperature, a new, continuous cough or a loss or change to your sense of smell or taste) or, of course, if you've tested positive for coronavirus.