Wooden architecture Echo by French architecture firm Coldefy selected winner of consultation for Euralille, an urban quarter in the centre of Lille, France.
Conceived as a major European business district in the 1980s, Euralille is strategically located at the intersection of the high-speed railway lines linking Paris, Brussels, and London, and incorporates the Gare de Lille Europe and Gare de Lille Flandres railway stations.
The master plan was commissioned in 1988 to OMA – Office of Metropolitan Architecture and defined several distinct areas many renowned architecture firms have been involved: a mixed-use precinct comprising a shopping mall named Triangle des Gares designed by Ateliers Jean Nouvel, the TGV station designed by Jean-Marie Duthilleul, two office towers designed by architects Christian de Portzamparc and Claude Vasconi, a park designed by Gilles Clément and a congress centre known as the Grand Palais designed by OMA.
Located in the heart of the quartier, between two major architectural pieces, the Grand Palais and the Cité Administrative, and at the interface with the railways, Echo reflects strong environmental ambitions.
Echo will be the first biobased wooden architecture in Euralille.
With this new sustainable project, Euralille testifies to its vitality and begins a new era, focused on low-carbon cities and landscape metamorphosis.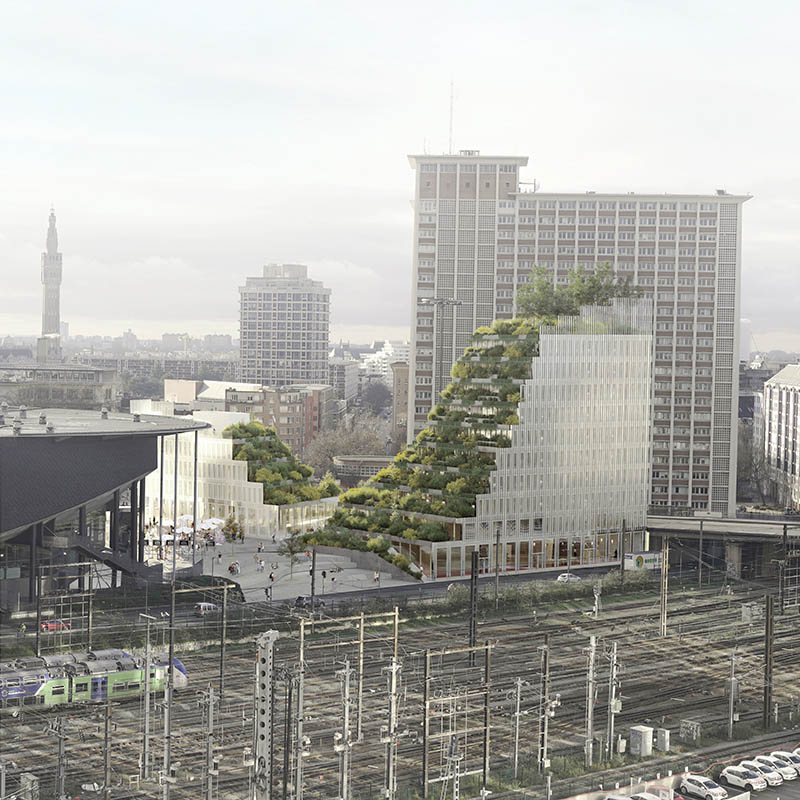 Courtesy: Coldefy | Image: Jeudi Wang
The project is developing 8,000 m2, nearly 40% of which will be devoted to hosting a predominantly catering and leisure program, in the form of a large climbing room. The office program will host Newton Offices, a flex offices brand.

Project owner: Aventim – ENGIE Solutions Aire Nouvelle
Team: Coldefy (Lead architect) Projex (MEP and Civil engineering), Ingébois (Structural engineer), VP & Green (Facade engineer), Tribu (Environmental engineer), Coloco (Landscaper), LTA (Economist), Aïda (Acoustic engineer, Vibration studies)
Surface Area: on a plot of 2000m2, 8000m2 floor area divided into:
4489m2 net floor area offices
2519 m2 for HIBRID (festive and creative hot spot)
1000m2 climbing club
1,400m2 of planted areas
Program: office complex, restaurant area (culinary corner, brasserie, etc.), climbing club, parking
Winning competition 2021
Location: Quartier Euralille – Lille, France