CopenHill, also known as Amager Bakke or Amager Slope, in Copenhagen, Denmark has been declared the World Building of the Year 2021 at the World Architecture Festival 2021 (WAF2021).
World Building of the Year 2021 was selected by a super jury of luminaries of the global architecture industry – comprising Paul Finch, Programme Director at World Architecture Festival; Abdelkader Damani, Director of Frac Centre-Val de Loire and Artistic Director of Biennale d'Architecture d'Orléans; Nuno Gonçalves Fontarra, Associate Partner at Mecanoo; Kim Herforth Nielsen, Founder and Creative Director of 3XN Architects; and Christina Seilern, Principal of Studio Seilern Architects.
The CopenHill is the fourteenth project to claim the illustrious title of World Building of the Year, since its inception at the inaugural World Architecture Festival in Barcelona in 2008; followed by four years in Singapore, two years in Berlin and two years in Amsterdam. This year the virtual festival was comprised of digital presentations from architects around the world with over 40 days of content. The programme will continue to be available on demand until 5th March.
CopenHill is designed by BIG Architects and was selected from the Production, Energy & Recycling category.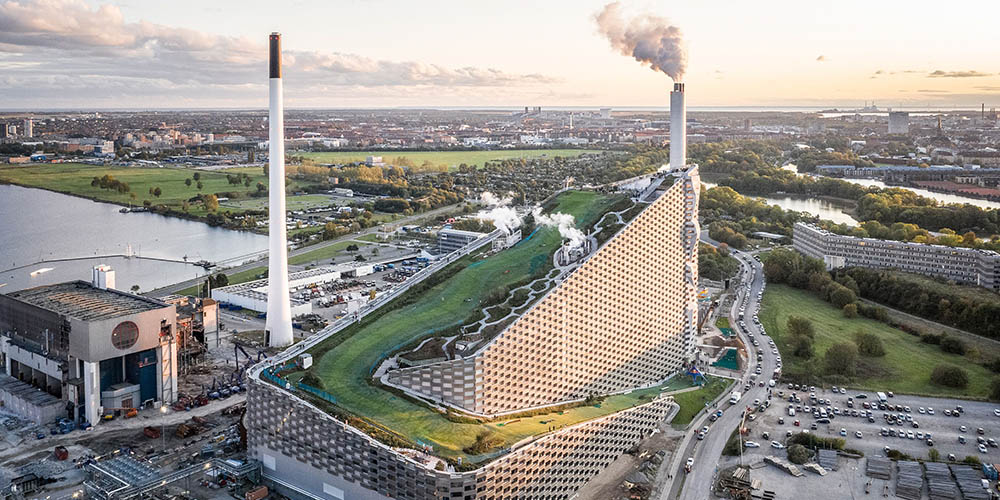 CopenHill /Amager Bakke by BIG | Photography: Rasmus Hjortshoj
CopenHill is a new breed of waste-to-energy plant, topped with a ski slope, hiking trail and climbing wall.
Formerly a piece of infrastructure in an industrial zone, CopenHill has become a new destination combining community and leisure with sustainable ambitions, aligning with Copenhagen's goal of becoming the world's first carbon-neutral city by 2025.
"CopenHill addresses the role of architecture in the new world of recycling and zero carbon. It treats infrastructure projects in a way which makes people say 'Yes in my back yard' rather than 'no.' It encourages designers to think beyond the brief, to argue for ideas, and to ride the tides of politics and economics in the pursuit of the socially beneficial. And it reminds us that buildings can be fun!" says World Architecture Festival Program Director, Paul Finch on behalf of the judges.
The 41,000m2 waste-to-energy plant also includes an urban recreation centre and environmental education hub, turning social infrastructure into an architectural landmark. Skiers ascending the park are able to glimpse inside the 24-hour operations of a waste incinerator.
The internal volumes of the power plant have been determined by the precise positioning and organisation of its machinery in height order, creating an efficient, sloping rooftop fit for a 9,000m2 ski terrain. On the longest vertical façade, an 85m climbing wall is installed, making it the tallest artificial climbing wall in the world. Inside, the new waste incinerating facilities integrate the latest technologies in waste treatment and energy production.
Meanwhile, the 10,000m2 green roof addresses the challenging micro-climate of an 85m high park, rewilding a biodiverse landscape while absorbing heat, removing air particulates and minimising stormwater runoff. Beneath the slopes, whirring furnaces, steam, and turbines convert 440,000 tons of waste annually into enough clean energy to deliver electricity and district heating for 150,000 homes.
The mixed-use building also includes a rooftop bar, cross-fit area, climbing wall and viewing plateau in the city before descending the 490m tree-lined hiking and running trail within a lush, mountainous terrain designed by Danish Landscape Architects SLA, also winner of the Landscape of the Year 2021.
Landscape of the Year 2021 by SLA Architects is Al Fay Park in Abu Dhabi in the UAE.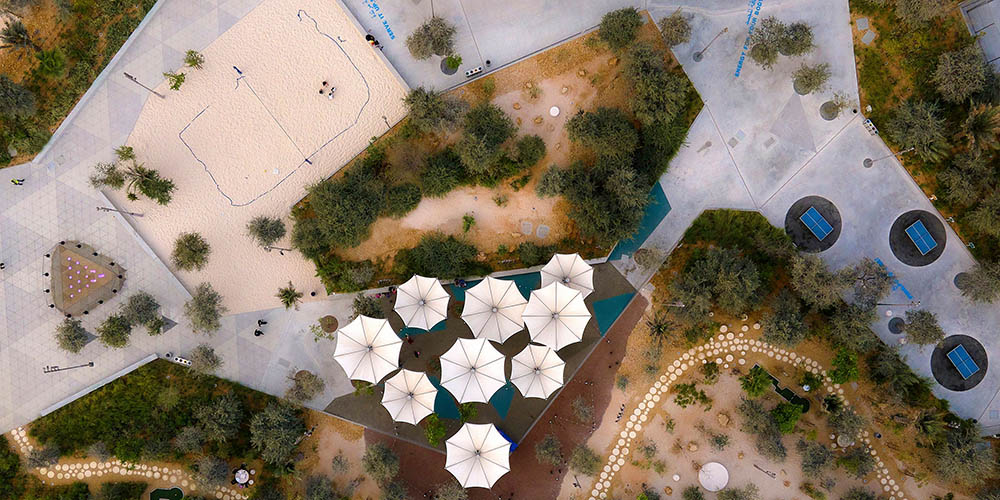 Al Fay Park by SLA Architects | Photography: Philip Handforth
Al Fay Park is a new 27,500 m2 public park in downtown Abu Dhabi that signals a new kind of Middle Eastern city development. Driven by inclusive nature rather than iconic buildings, Al Fay Park is the Middle East's first urban biodiversity park.
With its biodiverse planting, optimised microclimate strategy and inclusive social activities, the park is specifically designed to provide biological, environmental and social benefits to both the city and its residents. By planting more than 2,000 native trees and bushes, biodiversity is strengthened for both plants and wildlife, which in turn maximises natural cooling throughout the park.
"Al Fay Park is a thoughtful and intelligent response which takes into consideration pressing contemporary social and environmental issues. It is more over a delightful and biodiverse oasis in a dense desert city" commented World Architecture Festival Super Jury
The super jury was made up of Zaš Brezar, Landzine; Lily Jencks, LilyJencksStudio | JencksSquared; Todd Langstaffe-Gowan, Todd Langstaffe-Gowan Landscape Design.
The Future Project of the Year 2021, which celebrates the best of the world's architecture yet to be completed, was awarded to Silo City designed by Studio V Architecture.

Silo City by Studio V Architecture
Located in New York, Silo City is an impressive adaptive reuse of the largest collection of grain elevators in the world into a mixed-use arts and cultural complex.
The design for Silo City adapts the revolutionary structures into laboratories for experimentation, artistic expression, and community engagement, supporting grass roots and internationally recognised cultural institutions.
The site consists of two building types that differ in materials, form, and fenestration. The design preserves the unique forms of the silos and lack of fenestration by carving out unique interior chambers that manipulate space and light.
WAF's Future Project super jury, included Jeremy Melvin, Curator of World Architecture Festival; Mariana Simas, Director of studio mk27; Ankur Choksi, Principal of Studio Lotus; and Peter Cook, Architect, Professor and Writer.
The judges were impressed by the way "this project started with the ruins of the world's greatest collection of grain elevators, and through wonderfully seductive imagery envisages a future for them, the City of Buffalo – and of post-industrial cities".
WAFX Award 2021 which recognises project proposals tackling today's global issues, went to 'Horizon Manila' by WTA Architecture + Design Studio, a 419-hectare masterplan designed to serve as a new hub for growth and development for the Philippines' capital.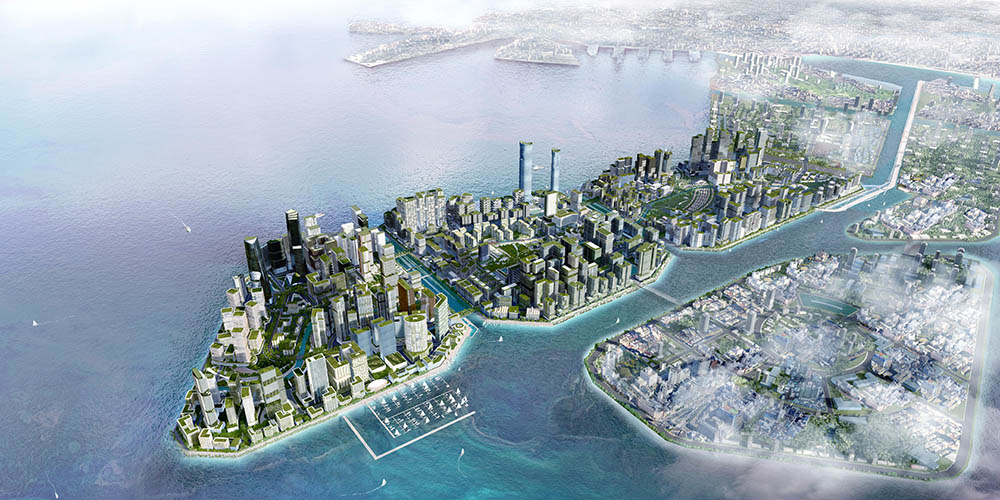 Horizon Manila by WTA Architecture + Design Studio, William Ti, Jr.
Horizon Manila WTA Architecture + Design Studiois an upcoming mixed-use planned community to be built on a 419-hectare reclaimed land in Manila Bay. It has been described as the biggest reclamation project in Manila, Philippines. Horizon Manila will be composed of three islands: Island 1 (140 hectares), Island 2 (140 hectares) and Island 3 (139 hectares). The project was approved by the Philippine Reclamation Authority in 2019 and construction will begin in the second half of 2021.
The three islands correspond to three different districts: the Arts and Culture District with many contemporary arts museum, the Market Square which will anchor the commercial and retail developments of Horizon Manila and the Villa District that will contain a school, church, library, skate park and an e-sports arena.