London Design Festival 2019 has just came to an end and we are back from our architecture and design educational tour in London!
12 interested students and architects attended to the two days educational tour we designed and our valuable partner Lago supported.
Lago is an Italian home furniture brand which designs and produces modular furniture entirely "Made in Italy" and since many years takes care and fosters the educational growth of design and architecture students organizing workshops, in-house summer camps and many cultural events.
This educational tour in London was a mix of design and architecture contents and our goals are always to learn, discover and experience design and architecture having fun. And we really had it!
The first day of the educational tour was entirely dedicated to architecture and we visited three important Londoner lieu in a row.
The first place we visited was the Royal Institute of British Architects headquarter at 66 Portland Placen in Marylebone, near the boundary with Fitzrovia. RIBA is a professional body for architects primarily in the United Kingdom, but also internationally, founded for the advancement of architecture under its charter granted in 1837 and Supplemental Charter granted in 1971.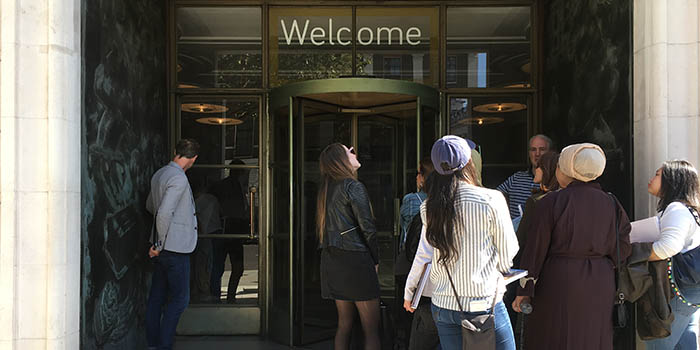 Visiting RIBA
The building tours offer insight into the architecture profession and the RIBA's role in championing great architecture. The building is designed primarily in the Art Deco style, blended with late neoclassical. Externally, the Art Deco elements manifest themselves in the bronze doors, architectural motifs, and trans-storey main window. The rustication and bay-regularity exhibit the elements of classicism. In this occasion, Lago's agent Simon Cook, took the chance to present the company and give a book about their history and ethos to our hosts.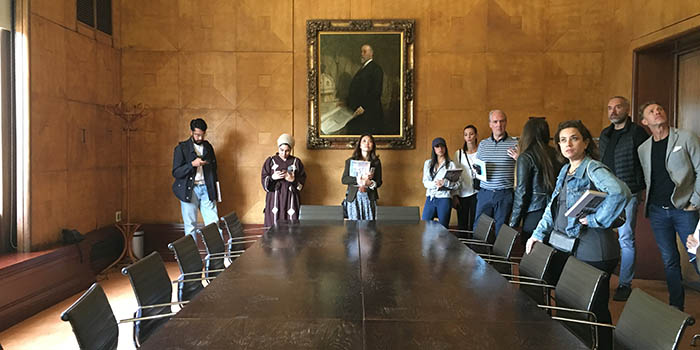 Visiting RIBA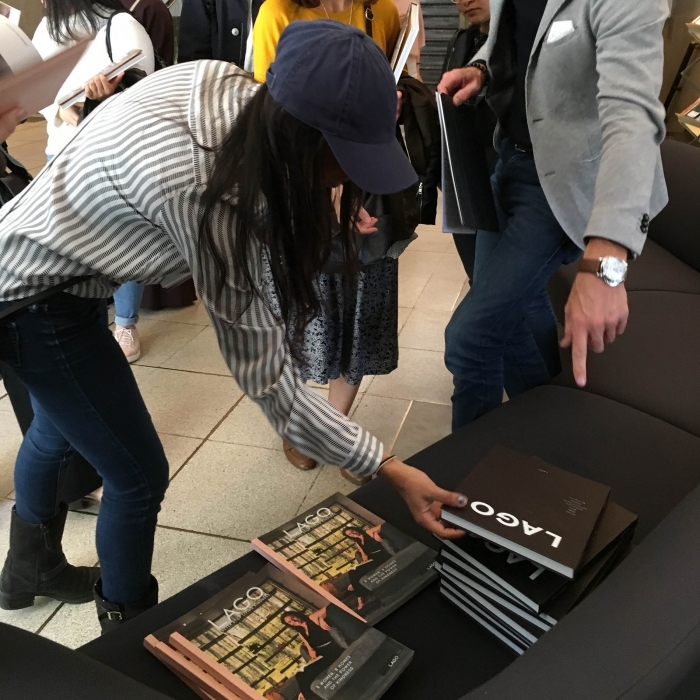 After a short lunch we had the chance to visit one of the most prestigious and awarded architecture firm in London: Allford Hall Monaghan Morris.
Senior Architect Francesco Draisci and Partnership manager Claire Pollock held a presentation of AHMM design philosophy and latest projects. Set up in 1989 by Simon Allford, Jonathan Hall, Paul Monaghan and Peter Morris, the practice employs over five hundred people working on projects in Education, Healthcare, Housing, Arts and Offices.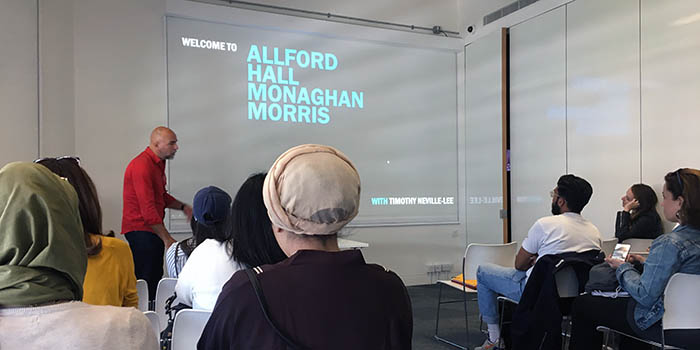 Presentation of AHMM ethos and projects by Francesco Draisci
For AHMM, a project begins with a strategy, not a design solution. This strategy arises from understanding the fundamental drivers of a brief and the parameters, problems and opportunities it represents. It includes a richer definition of context as political, economic or social as well as architectural.
After the presentation we visited the practice, the workshop and the tour ended with a fantastic view from their rooftop to the Barbican Center and all the other skyscrapers in the City of London.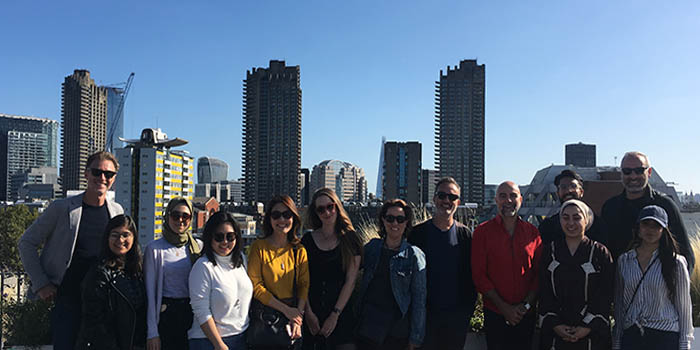 AHMM rooftop group picture
Just round the corner, Clerkenwell is a high-density architecture firms area, we visited another renowned architecture firm in London: Jestico + Whiles.
Jestico + Whiles is an architectural firm and interior design practice founded by Tom Jestico and John Whiles in 1977. The practice is a now trust, jointly owned by its staff. Hospitality and interior design Director James Dilley described us how the practice is working and explained some upcoming and awarded buildings as the W Hotel in Edinburgh (a winding steel 'ribbon' that will change the city skyline) and the multi awarded (RIBA, AJ100, dezeen) restoration of Pitzhanger Manor and Gallery, the Grade-I listed landmark home, created by one of Britain's greatest architects Sir John Soane.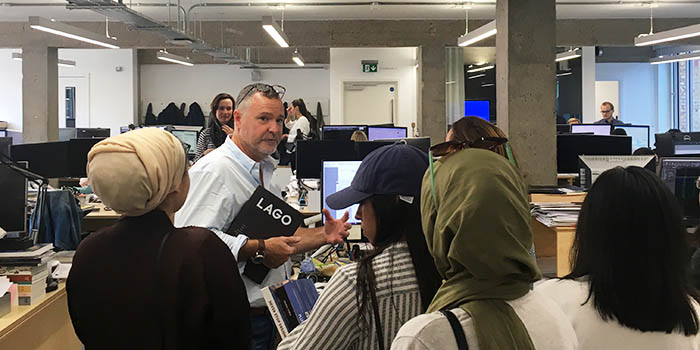 Visiting Jestico + Whiles with hospitality and interior design Director James Dilley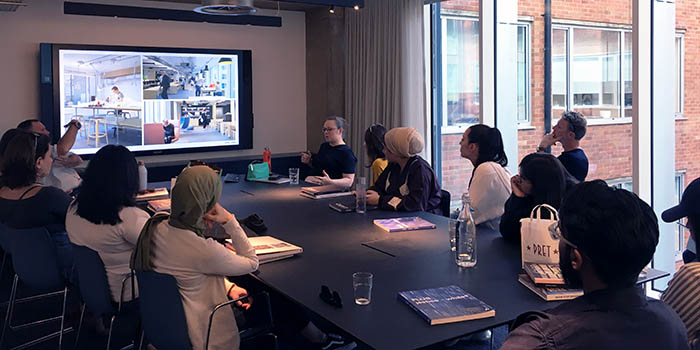 The second day of our architecture and design educational tour in London has been dedicated to the visit of designjunction the London's leading destination for contemporary interior design and culture during London Design Festival.
Walking form King's Cross railway station to Granary Square along the King's Boulevard was impossible not to stumble across the two monumental interactive sculptures installation called "Talk to Me". There, designer Steuart Padwick was waiting us to explain the concept behind the installation. As passers-by approach breathing interactive giant cuboid wooden figures, a proximity sensor is triggered, and they begin to voice poignant and uplifting words. These conversations start to crack the 'burden' to release a glowing light. Talk to Me is a hopeful piece, reminding us that through communication with one another the weight so many of us carry, can be lessened.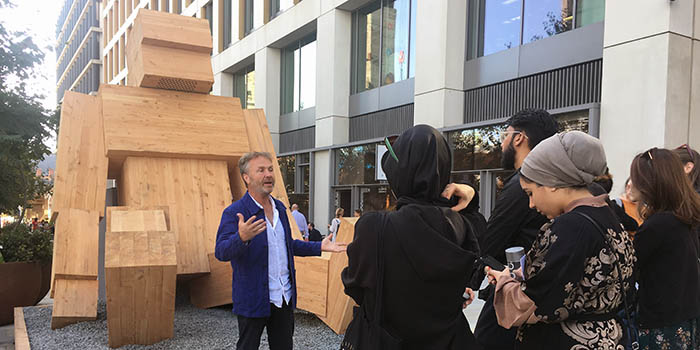 Steuart Padwick telling us about his installation Talk to Me
Steuart Padwick said: "Many of us carry issues and burdens that hold us down and hold us back. For some, these are crippling, and for some they even lead to taking their own lives. These burdens can start so young and appear insurmountable, unresolvable. But often, communication is the key to unlocking the journey forward"
After this inspiring moment with Steuart Padwick we have been welcomed by designjunction's Director Mark Gordon.
Mark as the new designjunction' director told us which are the goals and responsibilities he has in leading such an important and historical design event in London.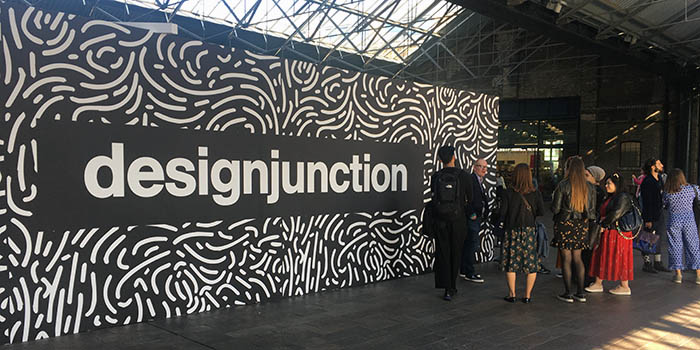 designjunction Director Mark Gordon welcoming us
"We are absolutely thrilled to be returning to this vibrant, connected part of London, and to once again be working closely with King's Cross. Coal Drops Yard has opened since we were last at this location, so there's a whole new experience we can offer our visitors. This is an incredibly exciting year for designjunction and our return gives us the opportunity to continue working with the best designers in the industry to create fantastic installations" commented designjunction's Director, Mark Gordon.
After the welcome speech, as part of our design educational tour in London, interior designer Paulo Castanheiro from Matteo Bianchi Studio led us into their ELLE Decoration café inside the Canopy market at designjunction. The ELLE Decoration café's was dedicated to the "metropolitan designer" and allowed any visitor to see the world from a different perspective inspiring clients through collecting visual experiences. 
Once again, an inspiring architecture and design educational tour in London came together quickly but we look already forward to the next one!
See you in Milan during our Brera Design Days educational tour the 9th and 10th of October!