AJ Architecture Awards have been announced on 7th December at a special celebration ceremony hosted by comedian Dara O'Briain and held in the Grosvenor House Hotel, central London. The AJ Architecture Awards jury made 259 building visits in their search for the best new architecture in the UK, looking at an eclectic mix of projects ranging from community schemes and cultural projects to tall buildings and design in the workplace.
The main winner was Lifschutz Davidson Sandilands which was named AJ Architect of the Year. The practice took home even the first prize in Housing Project of the Year for its a minimalist architecture project located in London called Paradise Gardens and won the Mixed-Use category with its Fitzroy Place (in collaboration with Sheppard Robson) a landmark development comprising prime office space, enticing retail outlets and luxury new homes, all gathered round a stunning landscaped square located in the heart of Fitzrovia.
There was yet more success at AJ Architecture Awards for Banbury-based Acanthus Clews Architects picked up both Heritage Project of the Year and the coveted Design of the Year.
They renovatied a historic Grade II*-listed 15th century parish hall in Burford and provided a flexible community hall and spaces including meeting rooms and café, bringing 'a real new heart to the town and community', while also being an exemplar in 'sensitive yet innovative conservation and retrofit'.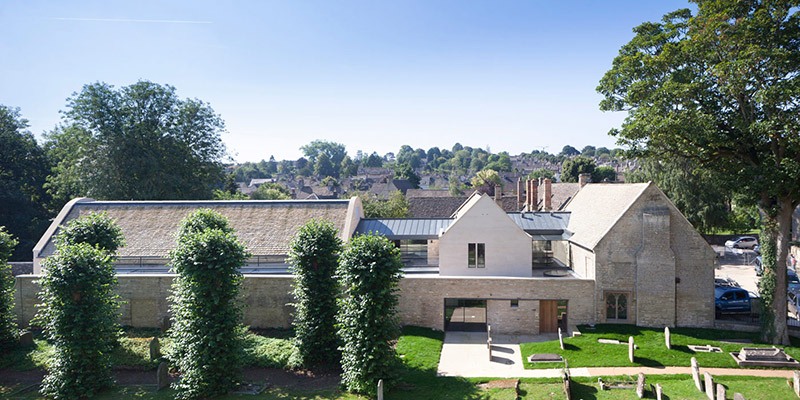 Architects attending the special ceremony also enjoyed a live brass band and took part in a fun casino in aid of homelessness charity Crisis. Afterwards legendary DJ Normski entertained the crowd.
Winners in full of AJ Architecture Awards
Architect of the Year Lifschutz Davidson Sandilands
Design of the Year Warwick Hall Community Centre by Acanthus Clews Architects
Editor's Choice Nucleus, the Nuclear and Caithness Archives by Reiach and Hall Architects
Budget Project of the Year The Dunbar Battery by rankinfraser landscape architecture
Community & Faith Project of the Year Vajrasana Buddhist Retreat Centre by Walters & Cohen Architects
Cultural Project of the Year Victoria & Albert Museum by AL_A
Health and Wellbeing Project of the Year Sunbeams Music Centre by MawsonKerr Architects
Heritage Project of the Year Warwick Hall Community Centre by Acanthus Clews Architects
Higher Education Project of the Year Alan Walters Building by Berman Guedes Stretton Architects
House of the Year Tin House by Henning Stummel Architects
Housing Project of the Year Paradise Gardens by Lifschutz Davidson Sandilands
Infrastructure Project of the Year Deansgate-Castlefield Metrolink Stop by SimpsonHaugh and Partners
Interior Design of the Year Defoe Road by Paper House Project
Landscape Project of the Year Lesnes to Crossness by Untitled Practice
Leisure Project of the Year Watermark Westquay by Acme
Masterplan of the Year North West Cambridge Development by AECOM
Mixed-use Project of the Year Fitzroy Place by Lifschutz Davidson Sandilands and Sheppard Robson
Public Building of the Year Nucleus, the Nuclear and Caithness Archives by Reiach and Hall Architects
Rerfurb of the Year One King William Street by Allford Hall Monaghan Morris
School Project of the Year Holy Trinity Primary School by Rock Townsend and Stockwool
Sustainable Project of the Year Derwenthorpe Phase One by Studio Partington
Tall Building of the Year Angel Court by Fletcher Priest Architects
Workplace of the Year Sky Central by PLP Architecture, AL_A and Hassell
For more info about the AJ Architecture Awards visit AJ Journal