3XN Architects won the competition to design Cobot Hub – the new joint home of two Danish robot developers in Odense, Denmark: Universal Robots (UR) and Mobile Industrial Robots (MiR).
The name Cobot Hub derives from the robotics term 'cobot' – a contraction of 'collaborative' and 'robots'.
Designed to enhance collaboration and employee well-being, while offering highly specialised environments for robot research and development, the new hub will feature 20,000 square metre for robotics.
The two Danish robot developers UR and MiR specialise in 'cobots' or collaborative robots. They are robots intended for direct human robot interaction within a shared space, or where humans and robots are in close proximity. Cobot applications contrast with traditional industrial robot applications in which robots are isolated from human contact.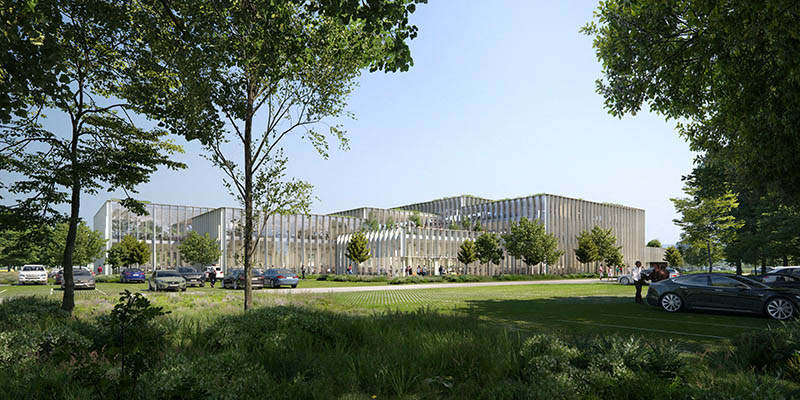 "UR and MiR's offices are spread across five different addresses in Odense, and we're growing rapidly, which has meant that we have been challenged space-wise. This is the reason why we will now group most of our activities in a new joint domicile, which will be the world's largest hub for collaborative robots. At the same time, it gives us the opportunity to establish a strong professional environment and the best facilities that will help to attract talents from all over the world to work with cobots" says Søren Nielsen, CEO of MiR.
The state-of-the-art facilities will support their high growth ambitions and help to attract and develop highly skilled employees.
Odense is known as the 'cobot capital' and is home to Odense Robotics – one of Europe's leading robotic clusters.
"We chose 3XN and their design because of their ability to create buildings with a focus on innovative and creative environments. This goes hand in hand with UR and MiR's focus on developing robots of the future that can help realise the great market potential that lies within collaborative automation" adds Greg Smith, Interim President of Universal Robots. 
Adaptable workspaces ready for the future
Just as robots are made up of different components, Cobot Hub is made up of flexible modules tailored to the two Danish robot developers and their differing specialised needs.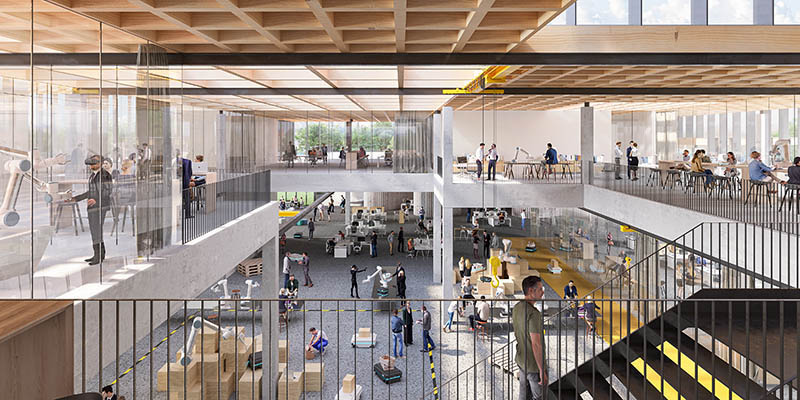 "We have worked closely with the users of the building since the beginning of the process, and we have conducted many interviews to outline what the new building needs to deliver. A lot of different elements had to come together. The new building will house two independent companies that need everything from traditional office space to workshops, laboratories, and creative robot 'playrooms', where the robots of the future are developed" says Audun Opdal, Architect and Senior Partner at 3XN.
Driven by the building's modular approach, the cubic volumes form a strong architectural expression and provide a flexible framework so that the building can be scaled up or down according to future needs. This means that significant parts of the building's structure and materials can be reshaped and reused.
The design team has developed a wooden architecture with potential for future recycling. In addition to being aesthetically beautiful and a living material, wood is great for indoor climate as it stores CO2 throughout its life.
An open campus where employees can flourish
The design of Cobot Hub is based on the idea of ​​a campus that includes open office landscapes as well as common areas and amenity spaces where employees can meet informally across the two organisations. The purpose is to create spaces which improve employee well-being and where exchanges of knowledge, innovation, and creativity can flourish.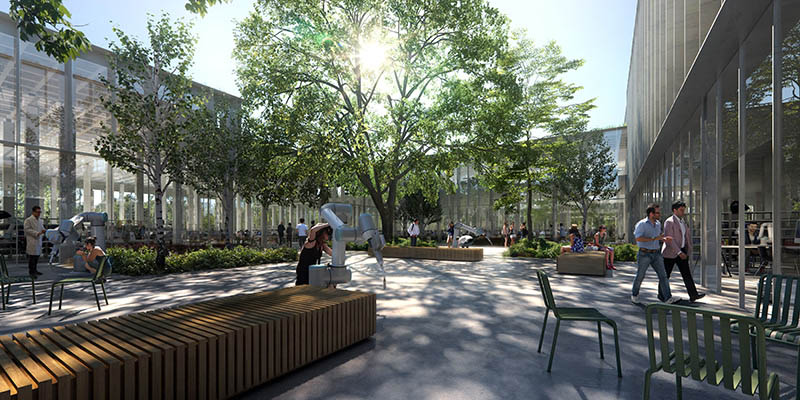 "This have been solved by prioritising a number of common areas and atriums that open the building up and create visibility and transparency and encourage social interaction and cooperation between people and departments. Spatial qualities such as daylight and green areas also contribute to employee well-being" says Audun Opdal.
The building's low height allows it to blend into the surrounding green area. A shared courtyard forms the heart of Cobot Hub and will become an important centre of social life on campus. Here employees can meet across organisations, while the two companies maintain their own 'borders' inside the building.