Anne Lacaton and Jean-Philippe Vassal have been selected as the 2021 Pritzker Architecture Prize Laureates, announced Tom Pritzker, Chairman of The Hyatt Foundation, which sponsors the award that is known internationally as architecture's highest honor.
The work of Anne Lacaton and Jean-Philippe Vassal reflects architecture's democratic spirit. Through their ideas, approach to the profession, and the resulting buildings, they have proven that a commitment to a restorative architecture that is at once technological, innovative, and ecologically responsive can be pursued without nostalgia.
This is the mantra of the team of Anne Lacaton and Jean-Philippe Vassal since founding their Paris-based firm in 1987. Not only have they defined an architectural approach that renews the legacy of modernism, but they have also proposed an adjusted definition of the very profession of architecture.
Through their design of private and social housing, cultural and academic institutions, public spaces, and urban developments, Lacaton and Vassal reexamine sustainability in their reverence for pre-existing structures, conceiving projects by first taking inventory of what already exists.
"We never see the existing as a problem. We look with positive eyes because there is an opportunity of doing more with what we already have," states Lacaton . "We went to places where buildings would have been demolished and we met people, families who were attached to their housing, even if the situation was not the best . They were most often opposed to the demolition because they wished to stay in their neighborhood . It's a question of kindness," continues Vassal.
The architects increased living space exponentially and inexpensively, through winter gardens and balconies that enable inhabitants to conserve energy and access nature during all seasons. Latapie House (Floirac, France 1993) was their initial application of greenhouse technologies to install a winter garden that allowed a larger residence for a modest budget. The east-facing retractable and transparent polycarbonate panels on the back side of the home allow natural light to illuminate the entire dwelling, enlarging its indoor communal spaces from the living room to the kitchen, and enabling ease of climate control .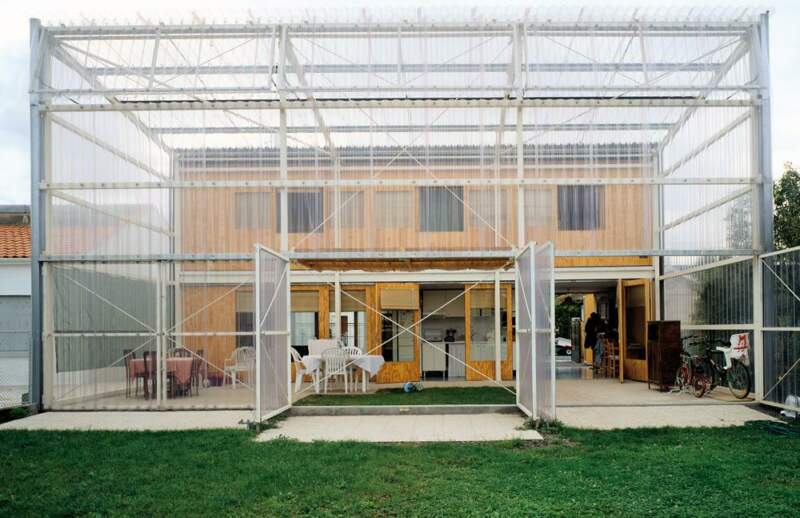 Latapie House, photo courtesy of Philippe Ruault
On a grander scale, Lacaton and Vassal, alongside Frédéric Druot, transformed La Tour Bois le Prêtre (Paris, France 2011), a 17-story, 96-unit city housing project originally built in the early 1960s. The architects increased the interior square footage of every unit through the removal of the original concrete façade, and extended the footprint of the building to form bioclimatic balconies. Once-constrained living rooms now extend into new terraces as flexible space, featuring large windows for unrestricted views of the city, thus reimagining not only the aesthetic of social housing, but also the intention and possibilities of such communities within the urban geography.
This framework was similarly applied to the transformation of three buildings (G, H and I), consisting of 530 apartments, at Grand Parc (Bordeaux, France 2017), with Druot and Christophe Hutin. The transformation resulted in a dramatic visual reinvention of the social housing complex, the modernization of elevators and plumbing, and the generous expansion of all units, some nearly doubling in size, without the displacement of any residents and for one third of the cost of demolishing and building new.
"Our work is about solving constraints and problems, and finding spaces that can create uses, emotions and feelings . At the end of this process and all of this effort, there must be lightness and simplicity, when all that has been before was so complex," explains Vassal.
Their most recent transformation of Palais de Tokyo (Paris, France 2012), after a restoration of the space more than a decade earlier, increased the museum by 20,000 square meters, in part by creating new underground space, and assuring that every area of the building is reserved for the user experience. Retreating from white cube galleries and guided pathways that are characteristic of many contemporary art museums, the architects instead created voluminous, unfinished spaces. These spaces allow artists and curators to create boundless exhibitions for all mediums of art within a range of physical environments, from dark and cavernous to transparent and sunlit, that encourage visitors to linger.
"Transformation is the opportunity of doing more and better with what is already existing . The demolishing is a decision of easiness and short term. It is a waste of many things—a waste of energy, a waste of material, and a waste of history. Moreover, it has a very negative social impact. For us, it is an act of violence." says Lacaton.
Adhering to a precept of "never demolish", Anne Lacaton and Jean-Philippe Vassal undertake restrained interventions to upgrade dated infrastructure while allowing enduring properties of a building to remain.
Rather than filling and losing the impressive void of the Atelier de Préfabrication no.2 (AP2), a postwar shipbuilding facility at the shoreline of a waterfront redevelopment project, the architects chose to erect a second building, identical in shape and size to the first . They used transparent, prefabricated materials, resulting in unhindered views through the new to the old.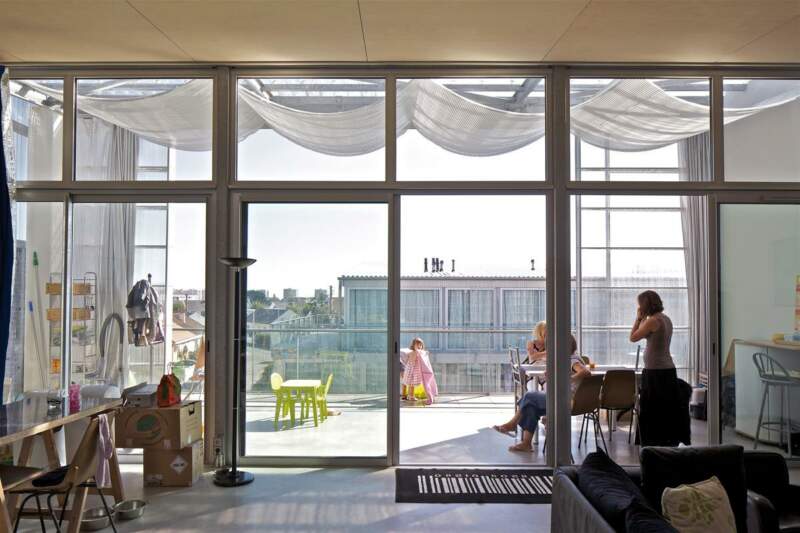 53 Units, Low-Rise Apartments, Social Housing, photo courtesy of Philippe Ruault
The original landmark, designated for public programming, and the newer structure, FRAC Nord-Pas de Calais (Dunkerque, France 2013), housing galleries, offices and storage for the regional collections of contemporary art, can function independently or collaboratively. They are connected by an internal street located in the void between the two structures.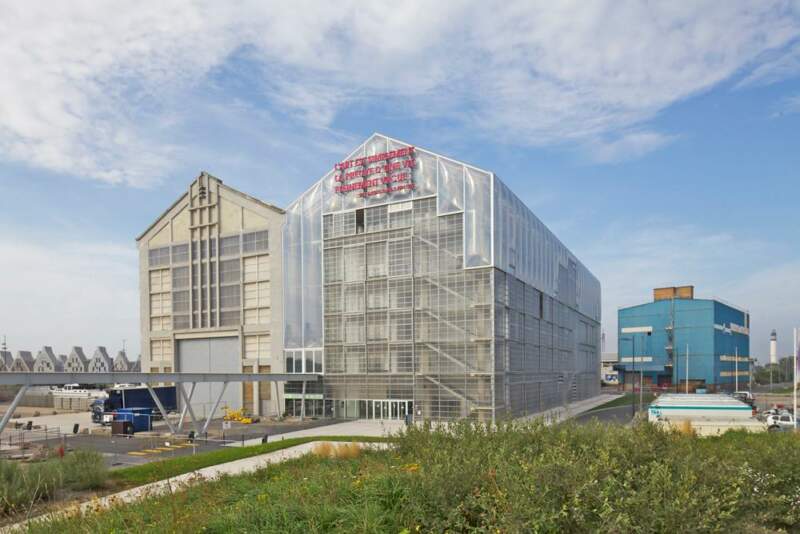 FRAC Nord-Pas de Calais, photo courtesy of Philippe Ruault
Much of their work encompasses new buildings, and the École Nationale Supérieure d'Architecture de Nantes (Nantes, France 2009) exemplifies the significance of freedom of use. To accommodate the range of pedagogies necessary for its growing student body, the plot was maximized and the architects were able to almost double the space outlined in the brief and do so within budget. Located at the bank of the Loire River, this large-scale, double-height, three-story building features a concrete and steel frame encased in retractable polycarbonate walls and sliding doors.
Areas of various sizes exist throughout, and all spaces are deliberately unprescribed and adaptable. An auditorium can open to extend into the street, and high ceilings create generous spaces necessary for construction workshops . Even the wide, sloping ramp that connects the ground to the 2,000 square meter functional rooftop is intended as a flexible learning and gathering space.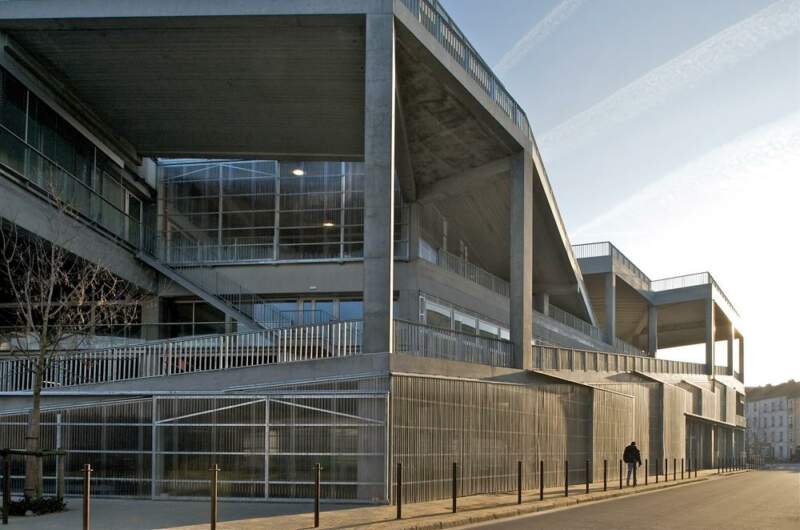 École Nationale Supérieure d'Architecture de Nantes, photo courtesy of Philippe Ruault
The modernist hopes and dreams to improve the lives of many are reinvigorated through their work that responds to the climatic and ecological emergencies of our time, as well as social urgencies, particularly in the realm of urban housing.
They accomplish this through a powerful sense of space and materials that creates architecture as strong in its forms as in its convictions, as transparent in its aesthetic as in its ethics. At once beautiful and pragmatic, they refuse any opposition between architectural quality, environmental responsibility, and the quest for an ethical society.