The Yongning Pagoda or Yongning Temple in China was one of the first tallest timber buildings in the world from 516 AD to 534 AD. The timber-frame Chinese architecture with a complete column grid and a stabilising masonry core was built during the Northern Wei in 516 AD but is no longer extant. Possibly nine stories high, of which seven were made of earth platforms with wooden verandas, and the top two stories were completely out of wood.
According to records, it is a square tower with a wood structure, nine stories high, and can be seen from a hundred miles away. There are different records about the height of the tower. According to the records and excavation data, some researchers speculate that it is about 136.7 meters. Today, the highest existing wooden tower in China the Sakyamuni Pagoda of the Fogong Temple is 67.31 meters high. Yongning Temple Tower is not only 500 years earlier than it, but also twice as high.
XXI century was the time of the wooden churches with their soaring bell towers. Re-built in 1904, Église Sainte-Marie is a Catholic church in Church Point, Canada. It is one of the largest and tallest wooden buildings in North America. Built in the form of a cross, the church nave measures 58 metres (190 feet) in length, with transepts that are 41 m (135 ft) across; the church spire rises 56 m (184 ft) from floor to steeple.
Completed in 1907, the Ascension Cathedral in Almaty, Kazakhstan, is made out of wood but without nails. Its height is 56 meters tall, and it was claimed to be the second tallest wooden building in the world.
Today the tallest wooden buildings in the world are no longer erected to celebrate God but are built to pursue a more sustainable future.
Designed by Waugh Thistleton Architects in 2009 by Murray Grove is the first residential building project constructed entirely from pre-fabricated solid timber, from the load-bearing walls and floor slabs to the stair and lift cores. This timber building project has spearheaded the introduction of CLT in the UK, and pioneered a wider international movement in its use.
Courtesy: Waugh Thistleton Architects
In 2019, HoHo Wien by RLP Rüdiger Lainer+Partner, with its 24 floors and 84 metres tall was one of the tallest buildings of its kind in the world. The wooden architecture forms an integrative element in Vienna's new Seestadt Aspern district. After completion, offices, serviced apartments, a hotel and wellness areas were set up there.
However, this building is a timber-concrete composite building since it has a concrete core stabilizing the building, according to the definition of CTBUH The proportion of timber construction from the ground floor can be estimated at 74%.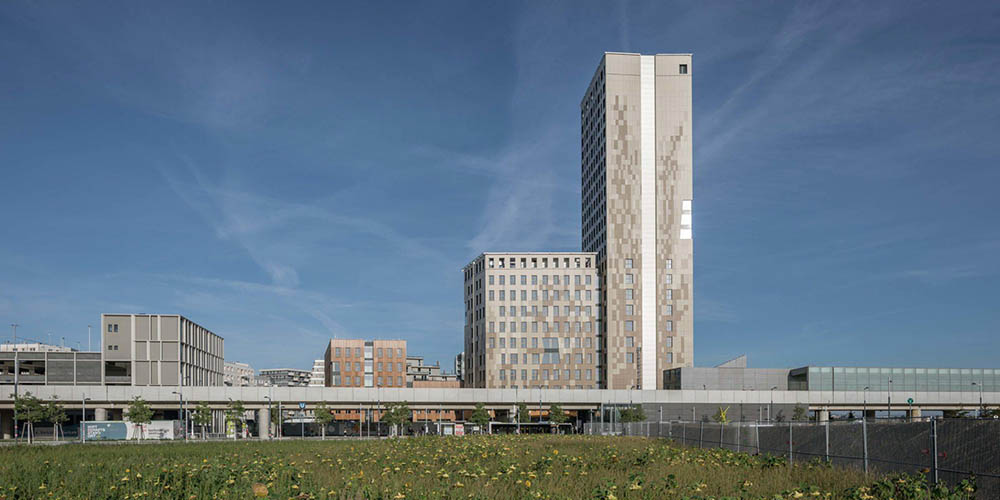 HoHo Vien | 

Courtesy: RLP Rüdiger Lainer+Partner

Designed by Swedish architecture firm White Arkitekter, Sara Cultural Centre in Skellefteå, Sweden, was in 2019 one of the world's tallest timber buildings in the World. Standing at 75-metres tall, it delivers a state-of-the-art cultural venue and hotel that positively contributes to the local community while at the same time being an international showcase for sustainable design and construction. (read more about Sara Cultural Centre)

The hybrid timber building was built with cross-laminated timber (CLT). The customer looked for a solution which was self-adhesive, diffusion-open, weatherproof, UV resistant and easy to process. As a result, 29 different custom-made Wigluv variations were processed fully laminated onto the wooden walls.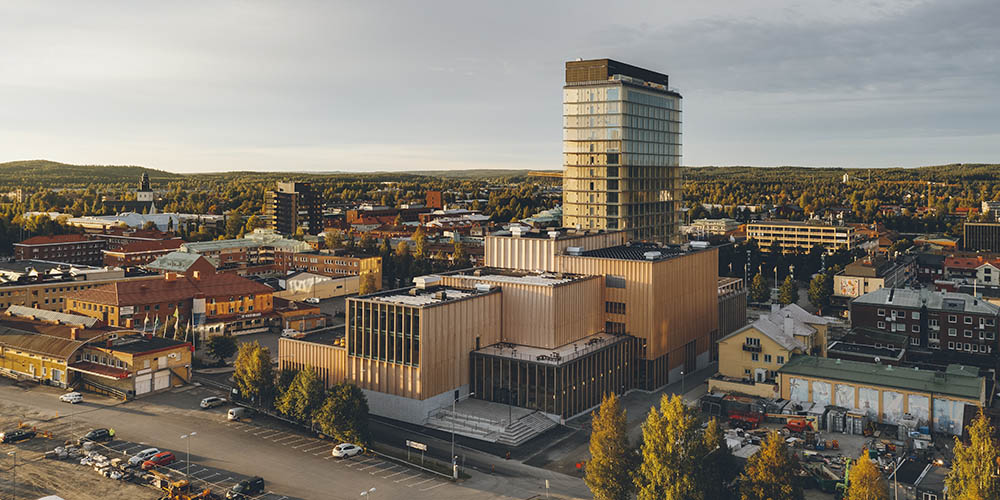 Sara Cultural Centre | Courtesy: White Arkitekter
Kajstaden Tall Timber Building by C.F. Møller has become another landmark in 2019 and, during construction, became Sweden's tallest solid wooden architecture in the new district of Kajstaden at Lake Mälaren in Västerås. Learn more about Kajstaden.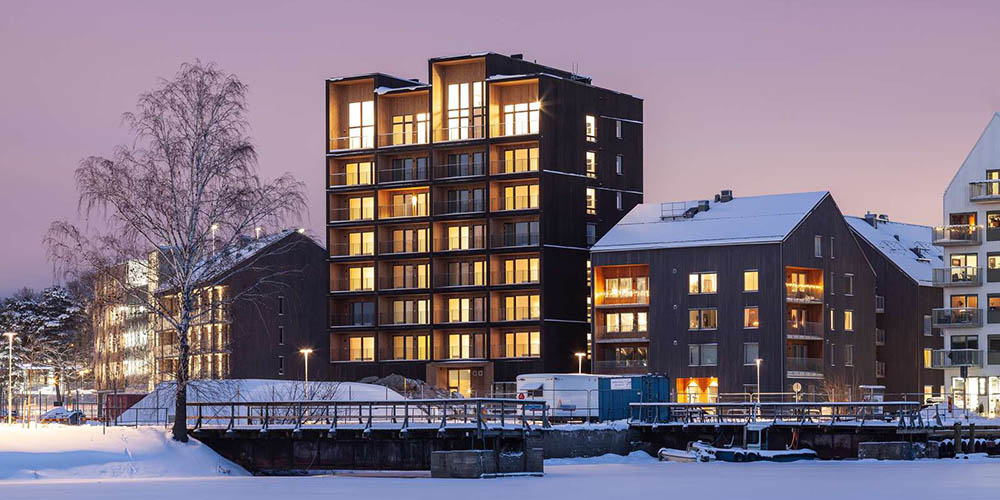 Kajstaden | Courtesy: C.F. Møller
According to the Council on Tall Buildings and Urban Habitat, the world's tallest timber building in 2019 was Mjøstårnet in Brumunddal, Norway, designed by Voll Arkitekter.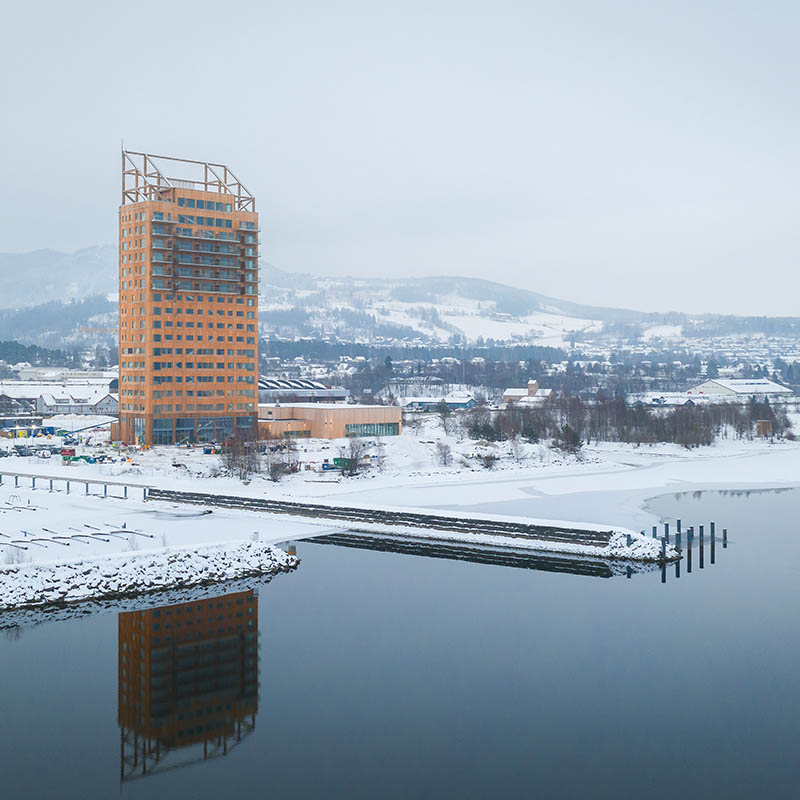 Mjøstårnet | Photography: Woodify AS / Vjus AS
It immediately became an iconic architecture, not only in the way it stands out on the shore of lake Mjøsa, Norway's biggest lake, but also as a symbol of the "green shift" and the proof that tall buildings can be built using local resources, local suppliers and sustainable wooden materials.
The tower consists of 18 stories with different programs. The official height is 85,4 meters. With a footprint of only 17m in width and 37,5m in length, each floor is about 640 m2. The total program for the tower Is about 10 500m2 with an additional 4 900m2 public bath. The ground floor is public, with lobby, reception and restaurant. In addition, there is an adjoining public bath on the ground floor with two 25 meters length pools.
Selected as Industrial demonstrators for the sustainable city, the mixed wood-concrete tower Hypérion by Viguier in Bordeaux, France, upon delivery in June 2021, it is the tallest wooden residential construction in France. More than 50 m high, the Hypérion wood frame tower has 17 levels and 98 housings on 7.000 m² SDP. The first three levels and the core are concrete. The floors and partitions are made of cross-laminated timber (CLT).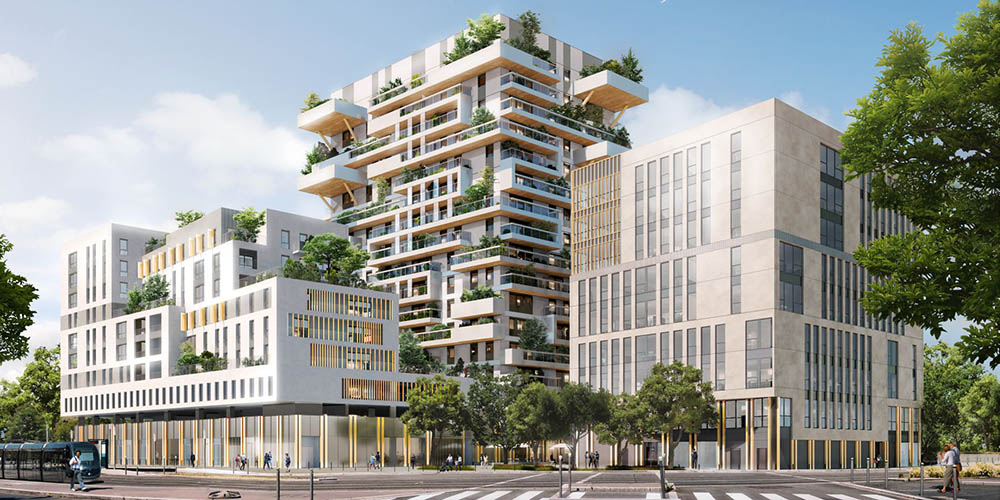 Hypérion | Courtesy: Viguier
Today, The Ascent by Korb + Associates Architects in Milwaukee's East Town neighborhood is the tallest timber structure in the world.  The 493,000-square-foot, mixed-use building contains 259 apartments, a pool on the sixth floor, and a top floor amenity level.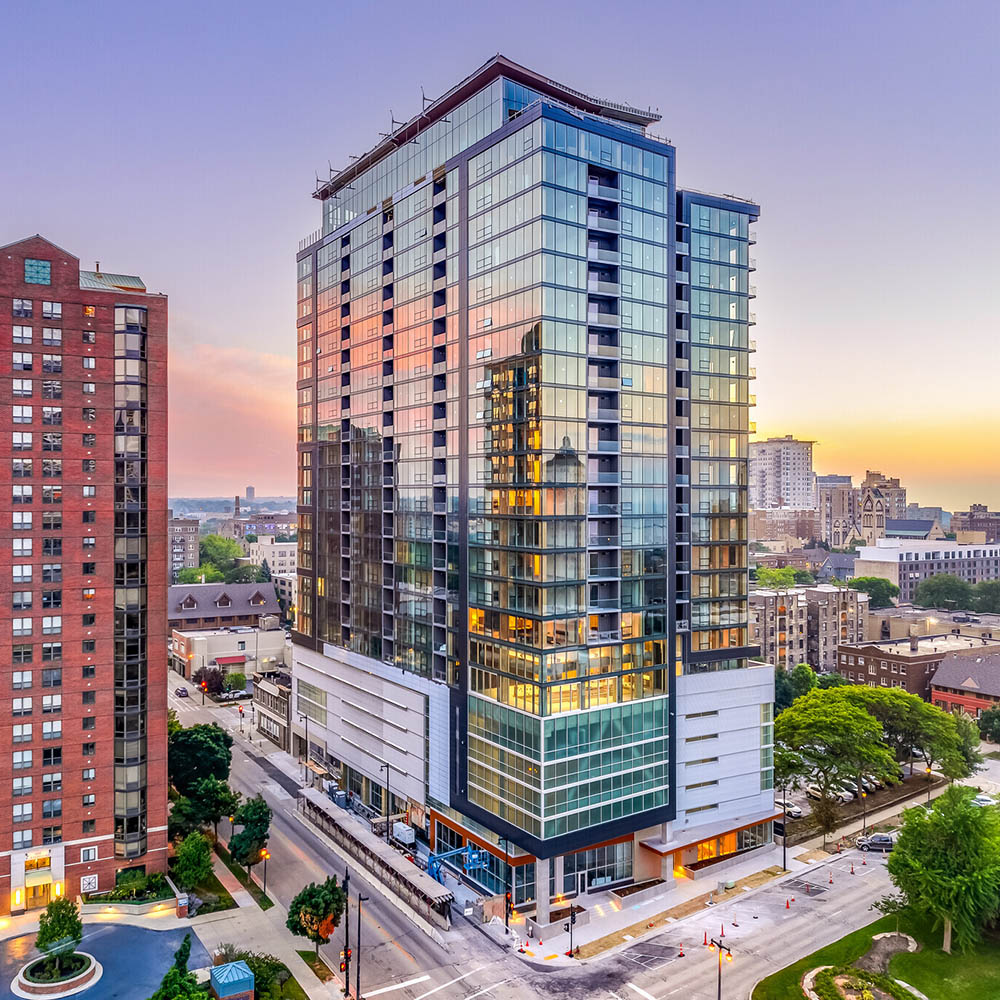 The Ascent | Courtesy: Thornton Tomasetti | Korb and Associates Architects
At 86.6 metres (284 feet), Ascent was certified as the world's tallest timber building, as well as the world's tallest timber-concrete hybrid building, by the Council on Tall Buildings and Urban Habitat.
Ascent will soon have competition from a building by Danish studio Schmidt Hammer Lassen; Rocket & Tigerli a 100-meter-tall housing block in Zurich, Switzerland, set to become the world's tallest timber building when it completes in 2026.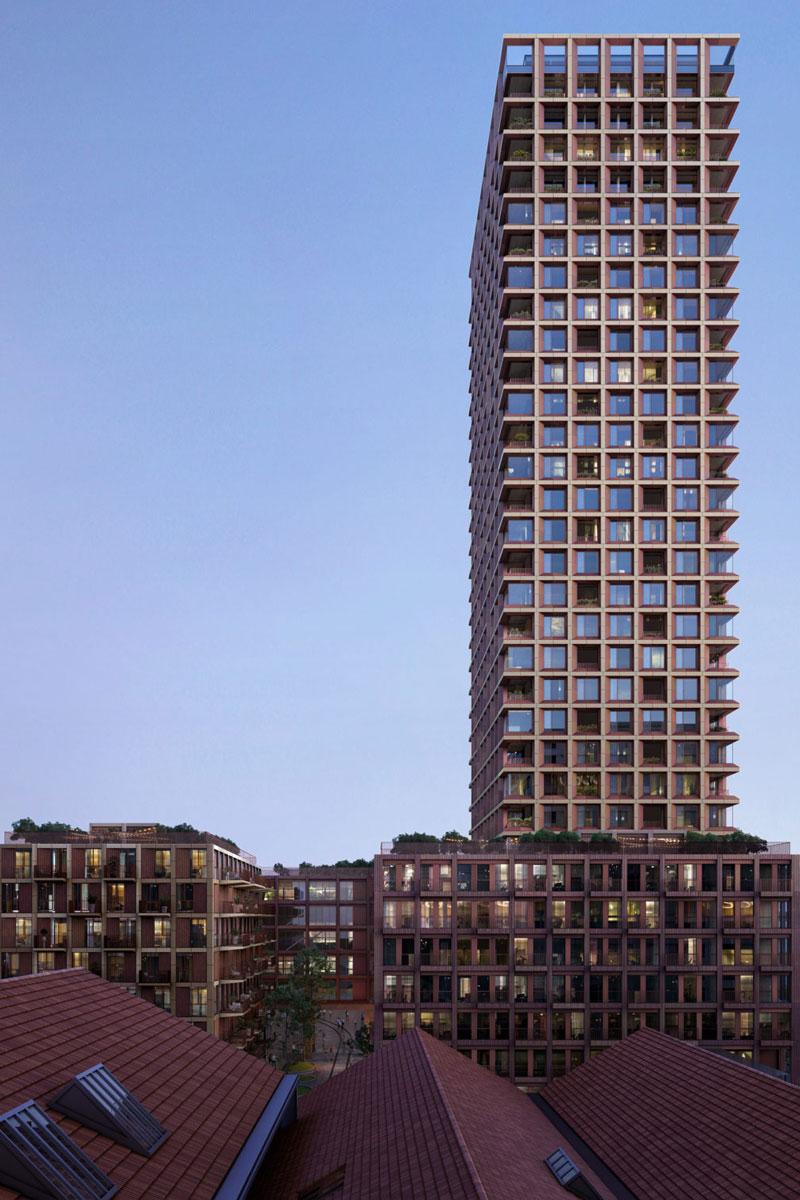 Rocket & Tigerli | Courtesy: Schmidt Hammer Lassen