Gio Ponti (1891-1979) is considered one of the most influential architects and designers of the twentieth century. He was not only an Italian architect and designer but even artist, teacher, writer and publisher. A prolific creator who was equally interested in both industrial and craft production, Ponti revolutionized post- war architecture, opening up the way for a new art of living.
His career and life will be honored at the Musée des Arts Décoratifs in his first retrospective in France from October 19th, 2018 to February 10th, 2019. The exhibition called "Tutto Ponti: Gio Ponti, Archi-Designer" and presented in the museum's main hall, covers the entirety of his long career from 1921 to 1978, highlighting numerous aspects of his work from architecture to industrial design, from furniture to lighting, and from the creation of journals to his incursion into the fields of glassware, ceramics and metalwork.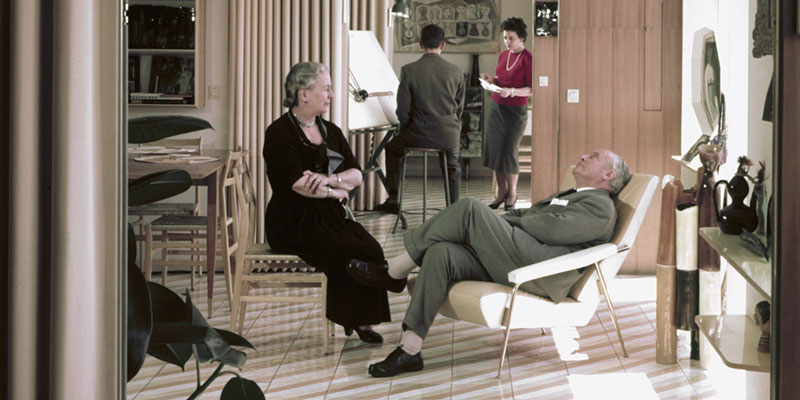 Gio Ponti and Giulia Ponti, Via Dezza, Milan 1957 © Gio Ponti Archives
Over 400 pieces, some of which have never left their place of origin, trace this multidisciplinary display that combines architecture, furniture and interior fittings for private homes and public buildings (universities and cathedrals). The exhibition design was conceived thanks to the expertise of Jean-Michel Wilmotte and his agency Wilmotte & Associés, in collaboration with the graphic designer Italo Lupi. While Gio Ponti's work is admired today by enlightened design enthusiasts and highly coveted by collectors, it nevertheless remains little known in France. This exhibition is an opportunity to introduce the wider public to the creative world of this mythical character from the Italian design scene, whose generosity and passion stimulated his contemporaries and continues to inspire new generations of designers and architects.
The exhibition Tutto Ponti: Gio Ponti, Archi-Designer presents a chronological view of Ponti's six-decade career in the fields of architecture, design, interior design and publishing. An evocation of the Taranto Cathedral, one of his late masterpieces, introduces the circuit that then unfolds in three parts, focusing on objects, furniture and architecture. Finally, six "period rooms" conclude the visit with spectacular reconstructions emphasizing the global aspect of his work. The garden- side gallery explores the collaborations that he undertook with major art-object manufacturers such as Richard Ginori, Christofle and Fontana Arte, as well as with artisans and smaller companies. Ceramics, glass and metalwork intermingle with works in papier mâché and enameled copper.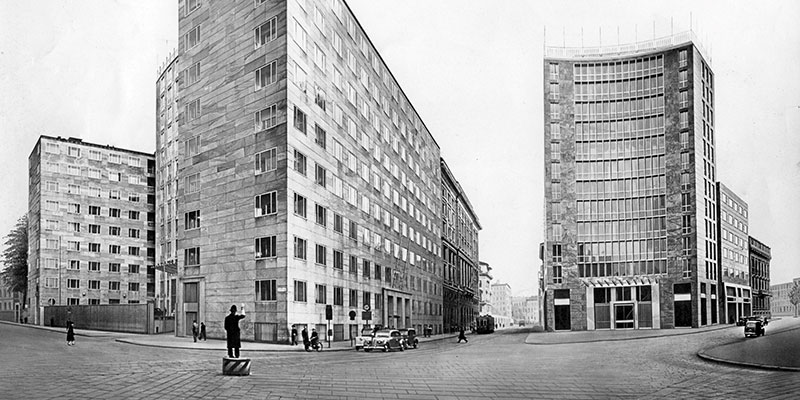 First Montecatini Building, exterior view, Milan 1936–38 © Gio Ponti Archives, Milan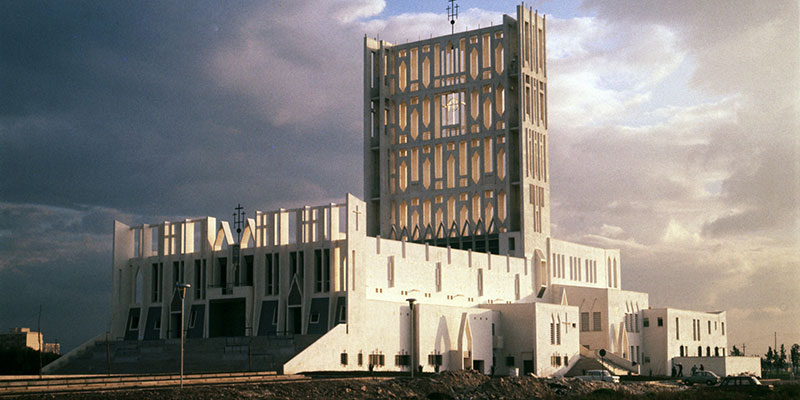 Cathedral, exterior, Taranto — 1964–70 © Gio Ponti Archives, Milan
The main hall – the backbone of the exhibition – is punctuated by five sections featuring major commissions, furniture, lighting and textiles, as well
as architectural projects detailed chronologically through drawings, models, photographs and films from
the period. Finally, on the Rivoli side, six unique spaces have been conceived, each representing a decade, in order to highlight Ponti's creations: l'Ange volant in the Parisian aera, the Pirelli Tower and the Montecatini building in Milan we visited during our Italian Architecture Now educational tour, the palazzo Bo – Padua University, Gio Ponti's home on the via Dezza in Milan, the interior of the Parco dei Principi hotel in Sorrento and finally the Villa Planchart in Caracas.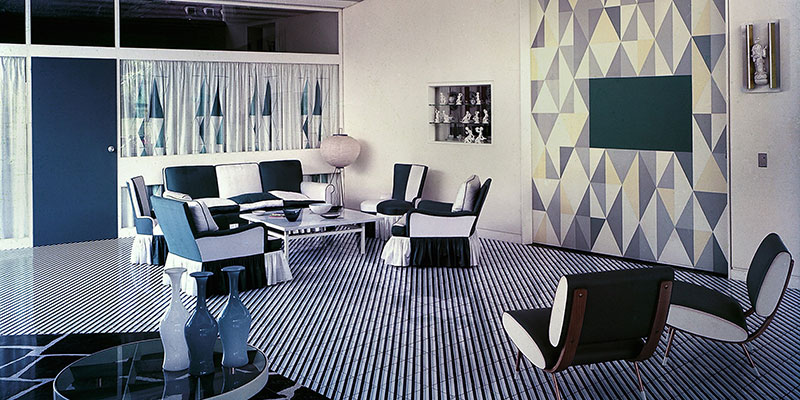 Living room at Villa Arreaza, Caracas — 1956 © Gio Ponti Archives, Milan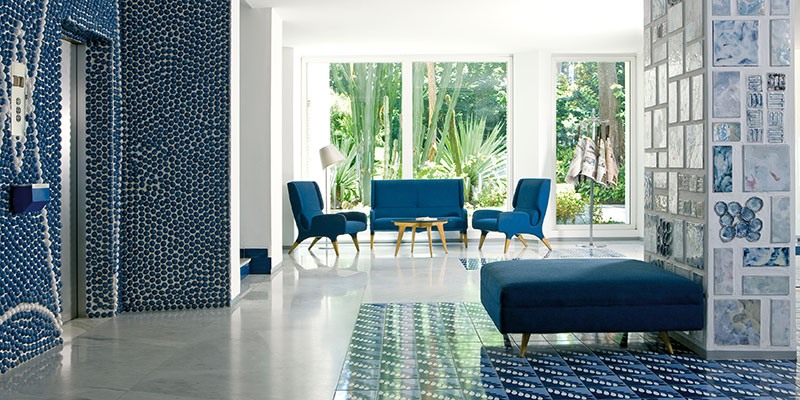 Lobby of Hotel Parco dei Principi — in Sorrento © Gio Ponti Archives, Milan
Until the very end, Gio Ponti defended his notion of an "Italian house", considered to be the ultimate expression of an authentic modern and international civilization. The expression "from the spoon to the city", attributed to the Italian architect Ernesto Nathan Rogers (1909-1969) in reference to Gio Ponti, perfectly embodies the personality of the Milanese architect, whose projects could range from the infinitely small to the infinitely large. This catchphrase sums up the breadth of Ponti's field of exploration, through which richness and originality remained constant in his joyful, colorful and very personal work.
Molteni&C, a company within the Molteni group alongside Dada, Unifor and Citterio, is participating in the exhibition not only as a sponsor, but also by lending several original pieces designed by Gio Ponti belonging to the collection of the Molteni Museum.
More info about Tutto Ponti: Gio Ponti, Archi-Designer at madparis.fr