Forskaren by 3XN is a New Health and Life Science Innovation Center in Stockholm.
This project is part of LE3DERS exhibition at Valcucine | Milano Brera showroom during Milan Design Week 2022, 6-12 June
Forskaren is designed to pursue the highest standards of sustainability and aspires to become LEED Platinum certified and Well v.1 Gold Certification. To this end, several sustainable solutions are put in place.
Rooftop solar panels integrate with other building systems including ventilation, heating, and cooling thus ensuring effective use of generated solar energy. The building is crowned by a green roof with lush bushes and trees, framing a generous roof terrace.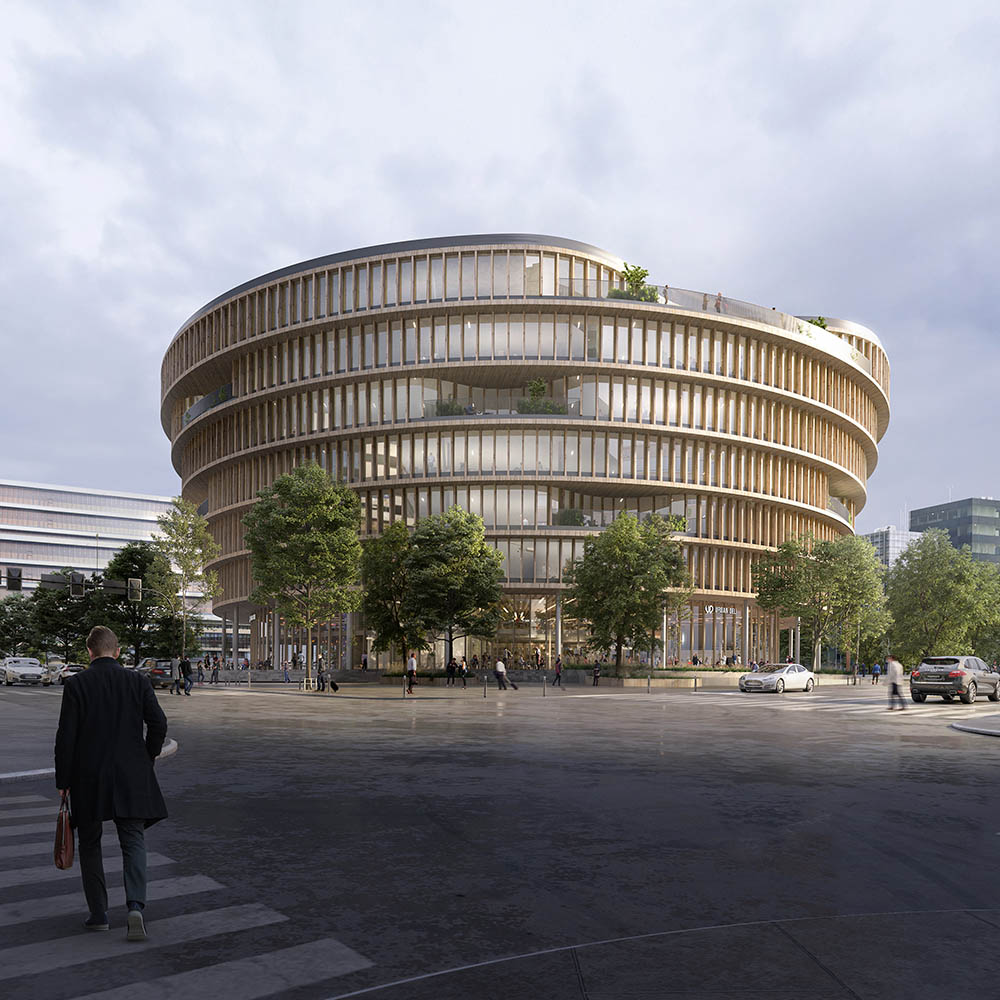 The 30,000 m2 building will contain work environments for both established and start-up companies; restaurants that inspire guests with forward-thinking cuisine; cafes; and an exhibition area that disseminates the latest life science research.
Forskaren is designed with the highest sustainability standards in mind and will pursue LEED Platinum certification and Well v.1 Gold Certification.
Forskaren is being developed by Swedish real estate development company Vectura Fastigheter.
"We are very pleased with 3XN's concept," says Micael Averborg, Business Development Manager at Vectura Fastigheter. "We are thrilled that the design lives up to the vision that Forskaren should be an innovation partner for life science and health."
Forskaren will become a part of Hagastaden, located between the Karolinska University Hospital and the old Stockholm city hospital. This new district will blend world-class research in health, life science and treatment – complete with housing, a new subway station, green recreation areas and amenities.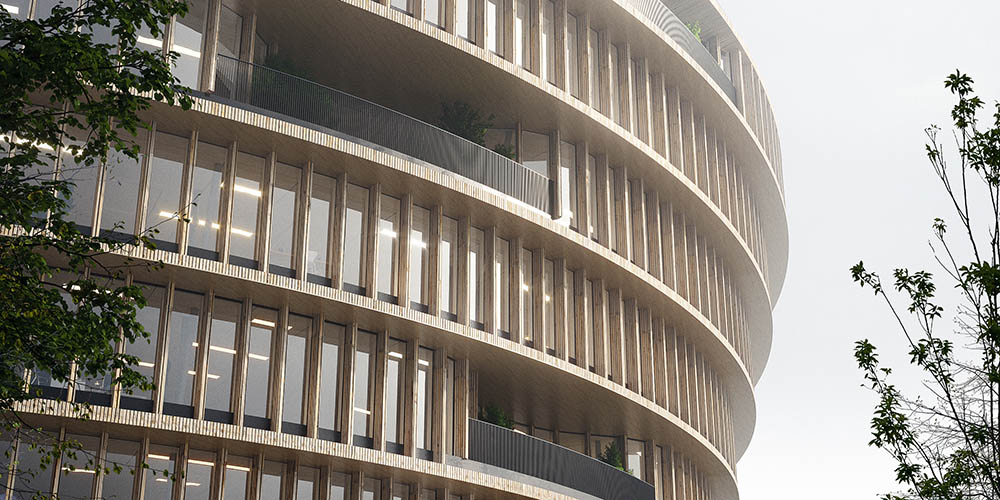 Forskaren will play a crucial role in attracting the best talents in health and life science.
The building will act as a generator for Swedish research, where exhibits inspire young people to see the exciting opportunities that lie within the field of life science. It will also be a place where new and established companies gain inspiration in laboratories and workshops, while also enjoying amenities such as a shared canteen.
Both the characteristic round shape and central Hagastaden location of Forskaren make the building a natural gathering point in the new district. The building's publicly accessible amenities and surrounding square are designed to be catalysts for new life in the area.
The overall design concept is to create a building that is open, inviting and easy to navigate. Light, tactile materials such as wood, natural stone, concrete and glass are used both inside and out. For the exterior, wooden slats provide a rhythmic accent to the building, creating a dynamic façade that emphasizes the circular design. At the entrance, the façade transitions to glass, offering a transparent and inviting glimpse inside for passers-by.
"Forskaren is a very ambitious project," says Jan Ammundsen, Partner in Charge and Senior Partner at 3XN. "The building will serve as a landmark of its central location, where it will interact with the city and create new collaborative environments. In addition, sustainability is front and centre and the building will provide optimal daylight, social zones and green settings for those working within."
Inside, the atrium features a distinctive spiral staircase; an atrium; open and inviting ground floor workplaces; interactive exhibition areas; restaurants; and publicly accessible cafes. Here, staff and public can meet, enjoy a cup of coffee, and view featured health and life science displays which result from work done in-house.
Tenants may choose to rent one or more floors, or simply take advantage of the atrium-adjacent co-working spaces that tie the building together vertically. Each floor boasts its own "laboratory" which can be used by both permanent and co-working tenants. The researchers' restaurants are also connected to the building's overall purpose and will serve gastronomic experiences created with sustainability, health and climate in mind.


About 3XN

Award-winning Danish architectural firm 3XN offers more than three decades of experience in designing and building innovative and human-focused architecture. Founded in 1986, the firm quickly became known for creating buildings of substance with compelling aesthetics supported by a strong theoretical foundation. The firm advances Scandinavian traditions of clarity and generosity in architecture and translates them for a global audience. 3XN projects are grounded in ongoing research into how buildings reflect and influence human behavior and the environment. This results in innovative solutions to increasingly complex contemporary challenges.
Among the firm's most high-profile projects are Olympic House – the International Olympic Committee (IOC) headquarters in Lausanne (Switzerland); the new Fish Market and Quay Quarter Tower in Sydney (Australia); and Royal Arena and The Blue Planet National Aquarium in Copenhagen (Denmark). Headquartered in Copenhagen, 3XN also maintains offices in Stockholm, New York, and Sydney.
GXN is the innovation unit of 3XN specializing in circular design, behavior design and digital design. The mission is to collect and apply the latest knowledge on materials, sustainability, behavior, and new technologies to the studio's architecture.
Image courtesy: 3XN