Greenlight for the new sister building in Porta Volta project by Herzog & de Meuron to be built in Milan's Piazza Baiamonti.
The overall masterplan for Porta Volta holds an important strategic potential for creating a positive impact on the surrounding area, due to its important urban dimension. As part of the redefinition of the area Porta Volta, Fondazione Giangiacomo Feltrinelli has already relocated its seat to the northern centre of Milan, considered as an ideal environment for the foundation's multiple activities.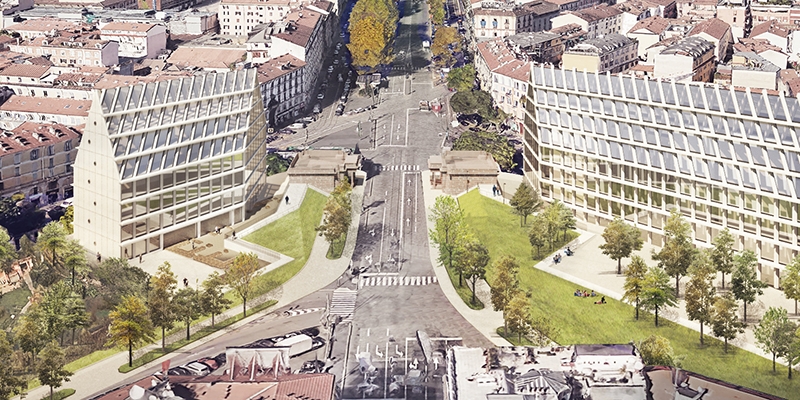 © Herzog & de Meuron. Google Earth, Landsat / Copernicus
The original project included the development of three buildings, mainly dedicated to offices, and a generous green area as extensions of the existing boulevards. Two of these buildings already exist, the third one is going to be built and it will host the Museo Nazionale della Resistenza dedicated to the memory of Italian anti-fascist resistance fighters. It will be built opposite the existing glass pyramid-shaped structure housing the Fondazione Feltrinelli.
[/fusion_builder_column]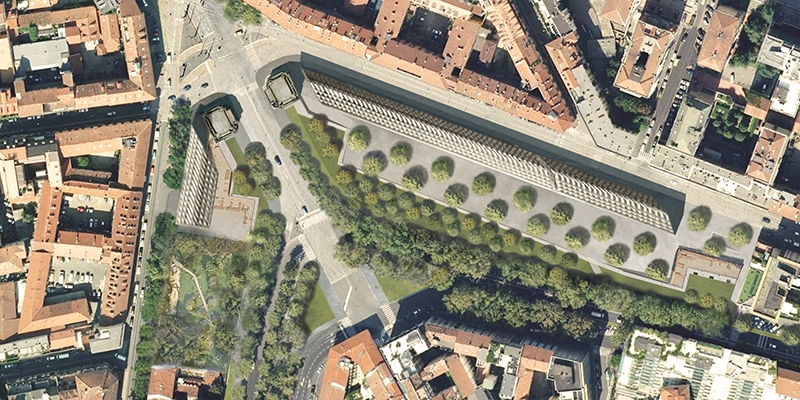 © Herzog & de Meuron. Google Earth, Landsat / Copernicus
As stated by the Swiss architects Herzog & de Meuron, these buildings are inspired by the simplicity and generous scale of historic Milanese architecture as Ospedale Maggiore, Rotonda della Besana, Lazaretto and Castello Sforzesco. They are also inspired by the long, linear Cascina buildings of traditional rural architecture in Lombardy, which already were an important reference in Aldo Rossi's work, for instance his residential building in Gallaratese.
This is why they proposed an elongated and narrow architecture which in a vaguely figurative way introduces a roof which melts into the facades. The structure expresses the geometrical conditions of the site in a rotation of its members and balances between transparency and spatial definition. Façade, structure and space form an integrated whole.
The finalization of Porta Volta project is intrinsically a Milanese Project, taking up themes of Milanese urbanism and architecture, which through the course of history have led to a series of emblematic buildings for which the City of Milan is renowned. Together with a series of preserved gates, the two Caselli Daziari di Porta Volta offer an important reference point within the Milanese city plan. The allocation of Edificio Feltrinelli and the Fondazione along Viale Pasubio and the allocation of Edificio Comune along Viale Montello opposite the axis Via Alessandro Volta underline this historical gate, taking up the Milanese tradition of twin buildings as in Piazza Duomo, Piemonte or Duca D'Aosta.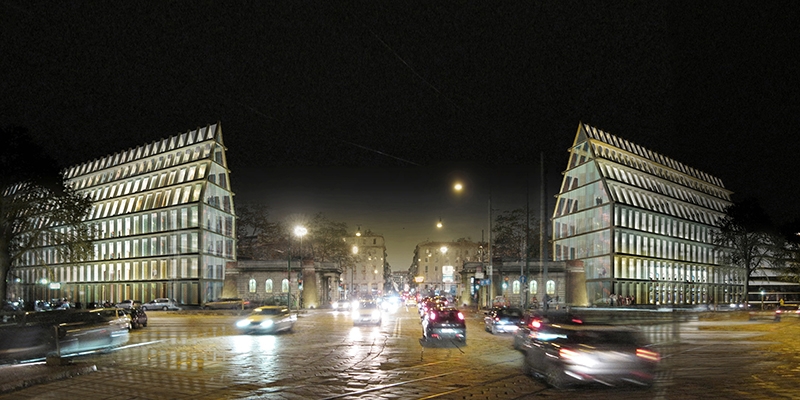 © Herzog & de Meuron