La Triennale di Milano unveiled the online platform brokennature.org, dedicated to the XXII Triennale (March 1st – September 1st, 2019), entitled Broken Nature: Design Takes on Human Survival and curated by Paola Antonelli, currently the Senior Curator of the Department of Architecture & Design at The Museum of Modern Art (MoMA), New York City.
With Broken Nature the XXII Triennale will promote the importance of creative practices in surveying our species' bonds with the complex systems in the world, and designing reparations when necessary, through objects, concepts, and new systems. Even to those who believe that the human species is inevitably going to become extinct at some point in the future, design presents the means to plan a more elegant ending. It can ensure that the next dominant species will remember us with a modicum of respect: as dignified and caring, if not intelligent, beings.
This online publication is launched exactly a year prior to the exhibition opening on March 1, 2019, it documents the curatorial team research and thought processes involved in organizing the exhibition Broken Nature while at the same time enticing new ideas and opinions to feed our insatiable curiosity.
In exploring architecture and design objects and concepts at all scales and in all materials, Broken Nature celebrates design's ability to offer powerful insight into the key issues of our age, moving beyond pious deference and inconclusive anxiety.
This is an inquisitive publication of texts, images, videos, podcasts, reports, and references that considers critically our relationship with the environment around us and within us. The contributors, coming from fields as diverse as journalism, science, philosophy, literature, design, technology, history, and politics, will elaborate on the theme of broken nature and help construct a linguistic as well as material vocabulary associated with the notions of restorative and regenerative design.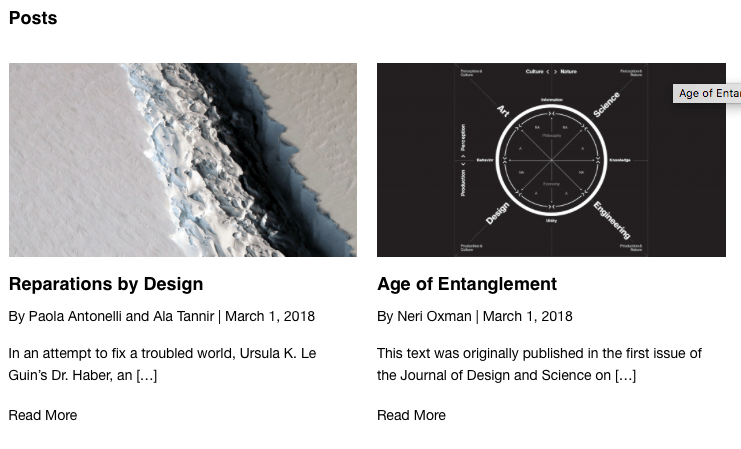 On this platform, curators will also compile a digest of news articles and academic essays, recent and long-standing discoveries and theories, projects, books, journals, and people, functioning as a living index for the public.
This publishing forum is an opportunity to both expand on the themes of the XXII Triennale and extend its reach to a wider audience: an opportunity to discuss matters of extreme importance for the world at large, as well as for the design and architecture community, which can and should play a vital role in making reparations with the world around us. Its ambition is to render the curatorial process more transparent and unfold relevant research questions, creating opportunities for public discussion that will add depth and dimension to the gallery display, the printed catalogue, and the public programs.
Take a look at the preview of the exhibition Broken Nature